User registrations have now been re-enabled. If you previously had an account and logged in via OpenID, please create a new account. Thank you!
generasia:Featured article for 2016 week 27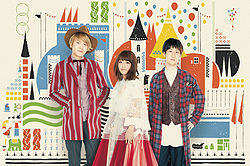 Scenarioart (シナリオアート) is a Japanese electronic pop-rock band signed to Ki/oon Records.
They are a Kansai born, male-female double vocal three-piece band. Their music style uses a mix of rock, electronica, and shoegaze pop. Their first single "White Raincoat Man" was released in April 2013 as a limited Tower Records edition. The single won second place in the Oricon weekly indies chart.
The band made their major debut with their first mini-album "night walking" on January 15, 2014.
Their first nationally released (second overall) single, "Epoch Parade", is released this week on July 6th.