New user registrations have been disabled until further notice. If you would like to create an account, please message
Generasia on Facebook
. Thank you!
generasia:Featured article for 2020 week 15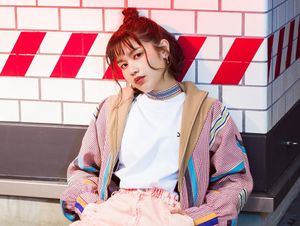 Anly is a Japanese pop singer-songwriter under Sony Music Entertainment.
Anly was born on Iejima, an island in Okinawa, Japan. She started played the guitar after her father bought her one at six years old. Since she grew up without access to a computer or the Internet at home, she often listened to blues and rock CDs her father bought while strumming her guitar. After her father taught her the basic chords, she learned the rest mainly on her own up through when she was in third grade, at which time she began to play songs by ear. She had wanted to be a singer from a young age, but because she wanted to sing her own songs, she began writing lyrics when she was in her second year of junior high school. The following year as a third year in junior high school, she also started composing her own music, and she thought about becoming a singer-songwriter.
Anly moved to Naha when she started high school since there was no high school in Iejima. She joined the marching band playing the trombone, but continued to write music between club activities. She resigned from the marching band in her second year of high school when she became serious about aiming to be a professional singer-songwriter. Anly began performing at live houses on Iejima and later in Naha. She released her first indie single "Sixteen" on January 19, 2015. After graduating from high school in early 2015, she was selected to open for miwa at a live house in Naha as part of miwa's acoustic live tour Acoguissimo in June. Later that year, she was discovered at a live house in Shimokitazawa, Setagaya, Tokyo and was employed as a reporter for J-Wave for the 2015 Fuji Rock Festival and the 2015 Summer Sonic Festival. Anly released her second indie single "Bye-Bye" on August 26, 2015.
Anly signed to Sony Music Records in 2015. She released her debut single "Taiyou ni Warae" that same year and her debut album anly one in 2017.
Her third studio album, Sweet Cruisin', is released this week on April 8th.