New user registrations have been disabled until further notice. If you would like to create an account, please message
Generasia on Facebook
. Thank you!
generasia:Featured article for 2020 week 41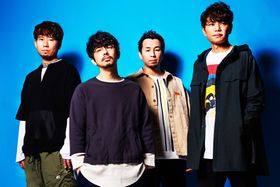 ASIAN KUNG-FU GENERATION (アジアン・カンフー・ジェネレーション) is a Japanese rock band. The band's musical style is influenced by seminal Western alternative rock acts as well as their own local Japanese indie-rock and punk scene. Despite the indie nature of their music, the band has enjoyed worldwide commercial success in addition to critical acclaim. The group has been cited as one of the best, most balanced modern rock bands to emerge from Japan in the 2000s.
The band was first formed in 1996 by Gotou Masafumi, Kita Kensuke, and Yamada Takahiro. Their drummer, Ijichi Kiyoshi, later joined after leaving another band. Their first works were sold exclusively online. In addition, their first independent album, THE TIME PAST AND I COULDN'T SEE YOU AGAIN, was entirely in English.
ASIAN KUNG-FU GENERATION got their first big break when their song "Konayuki" was featured on the radio. That same year, another independent album was released titled I'm standing here. In 2002, AKFG released the mini-album Houkai Amplifer, marking the start of singing their lyrics in Japanese. The album ranked #1 on the High Line Record Sales and #35 on Oricon. That same year, they also scored a deal with the producers of NARUTO and used the song "Haruka Kanata" for its opening theme. In 2003, the band produced their first major album Kimitsunagi Five M which sold over 250,000 copies. Their second album, Sol-Fa, reached the #1 spot on the Japanese music charts following its release, selling over 700,000 copies.
Their 27th single, "Dialogue / Furetai Tashikametai", is released this week on October 7th.