Tsuchiya Anna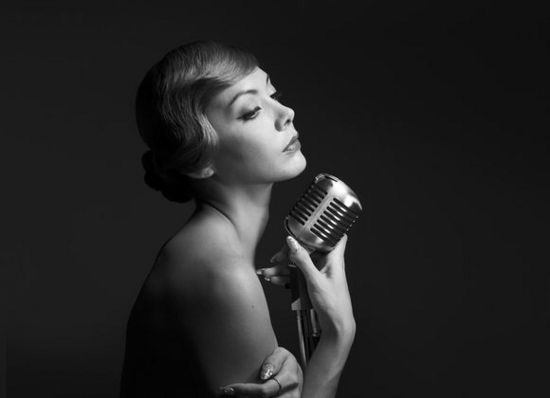 Tsuchiya Anna (土屋アンナ) is a model, singer and actress who started her career as an exclusive model for Seventeen magazine at 14. In 2002, she became the vocalist of the indies band Spin Aqua and later in 2004 started an acting career, playing Shirayuri Ichigo in the award winning comedy Shimotsuma Monogatari. Currently Tsuchiya continues on her musical career under the MAD PRAY RECORDS sub-label of avex trax. She is semi-proficient in English, having better command of English pronunciation than her peers (though not a fluent speaker).
Profile
Birth Name: Anna Marie Heider Tsuchiya
Stage Name: Tsuchiya Anna (土屋アンナ)
Date of Birth: March 11, 1984
Blood Type: A
Height: 168 cm
Family Tsuchiya Angela (sister), Tsuchiya Kenneth (brother), Niimura Joshua (ex husband 2004-2006), Kikuchi Yamato (ex husband 2009-2016), Niimura Sky and Kikuchi Simba (sons), daughter Rainbow Wave
Labels:
Bands / Groups:
Information
Tsuchiya Anna was born on March 11, 1984 to a Japanese mother and an American father mixed with Polish American and Irish American ancestry in Tokyo, Japan. Not much is known about her early life, but she started her modelling career at age 14. From then on, Tsuchiya continued to find success in modelling; finding success as being in the centre stage of many teen magazines. She would later feature in Edwin, Something, and 503 commercials, as well as being the cover girl for a Calpis Water campaign. Tsuchiya has also starred in UNICLO, Kose Esprique and Vise commercials.
Spin Aqua
In late 2002, she debuted in the music world as part of the indies band Spin Aqua alongside the former Oblivion Dust guitarist KAZ. The duo debuted in 2002 under Ki/oon Records with the single "Unchained", which was followed up with Spin Aqua's first concert that was held in December at the Tokyo Bay NHK Hall as a part of the "Devilock '02" concert. Spin Aqua's continued to release two more singles, an album and a music video DVD. Despite the band's music sounding well-processed, Spin Aqua did not fare well commercially. The band's only single that would breath the top 200 was "mermaid" at #197, and their album sadly only reached #187 on Oricon charts.
The band would later slip into hiatus, and then in mid 2004 it was announced that they had permanently disbanded.
Shimotsuma Monogatari
It was announced in 2004 that Tsuchiya would be starting up an acting career. She starred in her first movie in the critically acclaimed blockbuster Shimotsuma Monogatari alongside Fukada Kyoko as the "yanki" girl Shirayuri Ichigo. Her role brought her both immediate attention and critical success; winning the award of "Best New Actress" at five different film awards in Japan. Tsuchiya said that she could really relate to the character of Ichigo, seven saying that, "Even after the shoot, I was acting like Ichigo at home and my mom was mad at me, saying, 'Mind your language!'".
Soon after the release of this movie, she shocked fans by announcing her engagement to the fellow model/actor JOSHUA, the younger brother of the model/actress Friedia Niimura (Rin Kozue). Joshua worked in the same modelling office as her. On November 19th, 2004 Tsuchiya's first child, Sky (澄海, sukai), was born. Sky even features in a photobook with his mother, "Happy Days - Anna, Mama ni Naru!". However, in early July 2006, the couple decided to break it off and filed for divorce.
Tsuchiya has continued to act and voice characters in various movies and dramas, though none as illustrious as her role in Shimotsuma Monogatari. For example, in the Japanese dub of Herbie: Fully Loaded, she had voiced Lindsay Lohan's character Maggie Peyton. However, Tsuchiya said herself that she prefers singing over modelling or acting.
Solo Career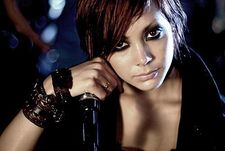 Tsuchiya once again returned to the music scene after the disbanding of Spin Aqua due to her pregnancy and marriage, though not as an indies artist. She debuted as a solo artist under the MAD PRAY RECORDS label of avex trax. It was announced that her debut single was under wraps, though later the announcement was changed as the single turned into an entire mini-album, later to be titled Taste My Beat. Three tracks would be promoted from the album; the semi-eponymous track "Taste My Skin" was used as the radio single for the release, the song "in my hands" was used in a commercial and her cover of Full Blown Rose's "Somebody Help Me" would be used as the theme song to Tru Calling for it's Japanese release. The mini-album even featured help from such successful foreign artists as Josh Freese, the drummer for the band A Perfect Circle. This release was a lot more successful than her previous releases under Spin Aqua, breaking the top 30 albums at #27.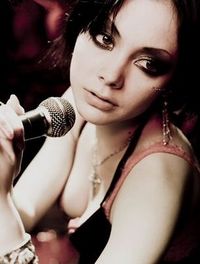 Tsuchiya then followed up this mini-album with two single releases and a remix album. The singles fared slightly worse than her mini-album (despite one of the tracks, "My Fate", being used as the ending theme for the anime Rean no Tsubasa).
For her third single, she would finally receive some major promotion. Her single "rose" would be used as the opening theme song for the anime adaption for the manga NANA alongside fellow Avex rock artist OLIVIA, who would be singing the ending theme song. The hype brought from this release boosted Tsuchiya's music career a lot, as Rose managed to reach a position of #6 on the Oricon charts (her first top 10 placement, and 21 placings above her next best placing product at the time).
To reinforce her growing popularity, her debut studio album was released shortly afterwards. The album, strip me?, features a growing number of commercial tie-up songs (including ones for WHITEEN, Kirin and Kosé Visée). More than half of the album's songs was used as a theme song for some commercial or some product.
Tsuchiya returned in early 2007 with a new single called "Kuroi Namida", which was used as the new ending theme song for the NANA anime.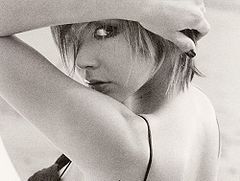 This single was to be released on the same day as Shiina Ringo's "Kono Yo no Kagiri", which is the ending theme song to Sakuran, the latest film that Tsuchiya stars in with a leading role. However "Kuroi Namida" was put forward a week. This was quickly followed by the third NANA OP single, "LUCY" in early February which directly preceded the release of a special self-titled NANA album billed under "ANNA TSUCHIYA inspi' NANA (BLACK STONES)".
On August 1st, she released the single "BUBBLE TRIP / sweet sweet song", her second double A-side single. It was co-produced by KNS Productions, the super producer team behind Britney Spears and *NSYNC. To promote the single, she was scheduled to appear not only in Japan but also at various rock festivals around the world, in response to enthusiastic offers. In addition, she released a CD in July in all 42 EU countries, while eight major firms in the U.S. will be distributing her music this summer in an aggressive global launch.
Another single, "cocoon", was released on January 30th of 2008, and in June Tsuchiya released another single called "Crazy World" with the collaboration of the Japanese artist AI. This collaborative track offered a new dimension to the artist's work with the blending of the genres of rock, r&b and hip-hop, and peaked at number 19 on the Oricon.
She then released another single in September, called "Virgin Cat", which was used to promote the show The L Word in Japan.
Later, Tsuchiya released her second studio album NUDY SHOW!. The promotional track of the album was "GINGER" in collaboration with MONKEY MAJIK. To commemorate the release, that fall saw the artist touring throughout eight cities on her Kachiatsu! tour. In 2009, she relased a remix version of the album called NUDY xxxremixxxxxxx!!!!!!!! SHOW! which featured collaborations from many notable names within the music industry.
Her first and only single in 2009 was "Brave vibration" and was used as the commercial song for Shinseido's "ANESSA '09". In 2012, she joined the Halloween project HALLOWEEN JUNKY ORCHESTRA.
Contents
Japanese Discography
Studio Albums
Character Albums
Best Albums
Mini-Albums
Cover Albums
Live Albums
Remix Albums
Singles
Split Singles
Other Singles
Digital Singles
Vinyls
Video Releases
Other Video Releases
Compilations / Other
European Discography
Works
Music
Vocals
TV
TV Variety
Radio
Filmography
Publications
Books
Photobooks
Band Scores
Magazines
[2010.07.xx] Gekkan Songs August 2010 (Feature)
Awards
3rd VOGUE NIPPON: Women of the Year (2007)
38th Best Dresser Awards: Entertainment-Sport Award (2009)
14th Nail Queen Awards: Nail Queen Artist (2009)
24th Nippon Megane Best Dresser Awards: Winner for Sunglasses Category (2011)
External Links