chatmonchy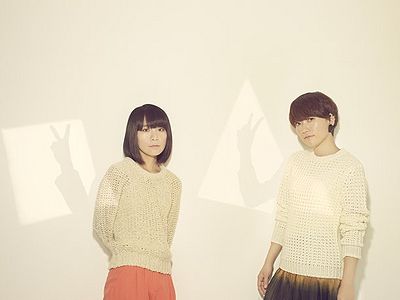 chatmonchy (チャットモンチー) was a Japanese rock band under the Sony sub-label Ki/oon Records. The band made their debut in 2005 with the mini-album, chatmonchy has come, but it wasn't until their third single, "Shangri-La", that the band really got noticed. The single was the bands first break into the top ten on the Oricon, and since then all their releases have charted in the top twenty. On September 29th, 2011 Takahashi Kumiko officially left the band. On July 22, 2018 chatmonchy officially disbanded
Members
Former Member
Information
Before 2005: Beginnings
Hashimoto Eriko made a decision to start a band, which she dubbed "chatmonchy". During the next couple of years she started to recruit members. It wasn't until 2002 when Hashimoto approached her fellow class mate Fukuoka Akiko about joining her band. The two soon started practicing together, and played as a two piece group for two years.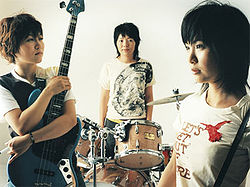 In March 2004 the girls met and recruited Takahashi Kumiko as their permanent drummer. Soon after they started playing together, the band enter a local battle of the bands in Tokushima. They ended up winning the battle, and were awarded the grand prize.
After their victory the band started recording CD's and distributing them throughout their area of Tokushima. During one of their live performances, the band caught the attention of a scout and was offered a deal by Sony Music Entertainment. The band soon signed to the label under their Ki/oon Records sub-label.
2005 - 2006: Major Label Debut
In November of 2005 the band released their debut mini-album, chatmonchy has come. The album barely made it to #50 on the Oricon charts. The song "Hana no Yume" was used as the radio single from the album and ended up becoming a power play song on various radio stations making this group very popular and performing at many places. After the release of their first single "Koi no Kemuri", chatmonchy announced they would be starting their first nationwide tour, smoke ON '06. Three months later the group released their second single "Ren'ai Spirits" which reached higher than "Koi no Kemuri". Only a month later came the release of their debut album, Miminari. The album did significantly well, reaching #10 on the Oricon. During the next couple of months chatmonchy played at various places including NANO-MUGEN FES.2006, ROCK IN JAPAN FES.2006, SUMMER SONIC 2006 OSAKA and MONSTER baSH 2006. It wasn't until October 2nd that the band announced their second nationwide tour, Miminari '06.
2007-2011: From Shangri-La to the departing of Takahashi Kumiko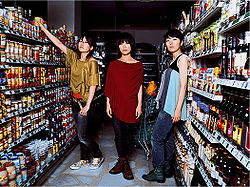 In November of 2006 (almost a year after their debut) chatmonchy released their third single, "Shangri-La". The title track had a tie-in with the Hataraki Man anime, which helped make the single the band's most successful single. The single ended up reacheing the #6 position in its first week and, spent three weeks within the top 20. It then went on to spend six more weeks in the top 200. In February of 2007 the band announced their fourth single, "Joshi Tachi ni Asu wa Nai". The single was released in April, and was followed in June with "Tobiuo no Butterfly / Sekai ga Owaru Yoru ni". Both singles did well, the first only staying the top 20 one week, and the latter spending two weeks.
The band's next single "Daidai" had yet another anime tie-in. This time around, the song was used as the ending theme to the shonen anime BLEACH. Even with the hype of the BLEACH fanbase the single ended up only reaching #12, then dropping to #34. It ended up selling less then their previous single.
The has recently released their second full-length album, Seimeiryoku. The album was released on 2007.10.24, and it contains all their singles from "Shangrila" up until "Daidai". The album also contains the song "Bus Romance", a b-side from the "Joshi Tachi ni Asu wa Nai" single. The album reached #1 it's first day on the Oricon charts but was soon knocked down to #2, with the Backstreet Boys' Unbreakable album taking over the #1 position for the week.
In March 2009 they released their third album titled Kokuhaku. This is to date their best selling album with a peak of #2 in the weekly charts and with more than 120,000 copies sold. They made a comeback in October 2012 with their second mini-album, Awa Come which reached #6. Only a half year later they released their fourth album titled YOU MORE, it peaked at #4.
On September 29th, 2011, drummer Takahashi Kumiko departed from the group, stating "I'm losing my inspiration to move forward in music. That's fatal to creating new music, and with the difference between my and Ecchan and Akkochan's passions, I can't make new songs while lying about my feelings".
2012: BEST-OF and 5th studio album
Soon chatmonchy announced the release of two new singles. The first was "Mangetsu ni Hoero" which hit #10 on the weekly Oricon Charts, only a week later "Thermae Roman" was released, it only managed a peak of #13. Another week later chatmonchy released their second Best Album, chatmonchy BEST ~2005-2011~, it included all singles which were released as a three member band. In May 2012 they released their second double A-Side single titled "Hatena / Yume Mitai da", the single reached #18. Their 17th single "Kira Kira Hikare" was released in July and managed a peak of #16. The fifth 2012' single, "Convenience Honeymoon" was released on September 12th and it reached #23.
On October 10th they released their fifth studio album Henshin, it was their first album as a two member band. It included all their singles released 2012.
Contents
Discography
Studio Albums
Best Albums
Mini-Albums
Singles
Digital Singles
DVDs
Other DVDs
Compilations / Others
Publications
Books

Band Scores
External Links