New user registrations outside of OpenID have been disabled pending a review of a recent influx of spam accounts. Apologies for any inconvenience this may have caused.
E-girls Live Tour 2015 "Colorful World"
From generasia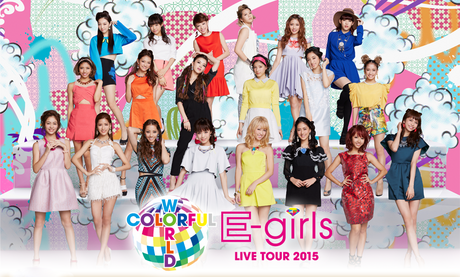 E-girls LIVE TOUR 2015 "COLORFUL WORLD" is the second concert tour of E-girls. The tour started in February 14, 2015 in Fukuoka and it is scheduled to finish in April 29, in Saitama.
Setlist
Fukuoka's Marine Messe Fukuoka, February 14, 2015
Akikaze no Answer (秋風のアンサー) (Flower)
Gomennasai no Kissing You (ごめんなさいのKissing You)
Sayonara, Alice (さよなら、アリス) (Flower)
Shirayukihime (白雪姫) (Flower)
Konna ni mo (こんなにも) (Dream)
Seifuku Dance
Rock n Roll Widow (ロックンロール・ウィドウ)
Jiyou no Megami ~Yuvuraia~ (自由の女神 ~ユーヴライア~)
Ureshii! Tanoshii! Daisuki! (うれしい!たのしい!大好き!)
Himawari (ヒマワリ)
THE NEVER ENDING STORY ~Kimi ni Himitsu wo Oshieyou~ (君に秘密を教えよう)

–ENCORE–

Kibou no Hikari ~Mirai wo Shinjite~ (希望の光 ~奇跡を信じて~)
Fukuoka's Marine Messe Fukuoka, February 15, 2015
Akikaze no Answer (秋風のアンサー) (Flower)
Gomennasai no Kissing You (ごめんなさいのKissing You)
Sayonara, Alice (さよなら、アリス) (Flower)
Shirayukihime (白雪姫) (Flower)
Konna ni mo (こんなにも) (Dream)
Seifuku Dance
Rock n Roll Widow (ロックンロール・ウィドウ)
Jiyou no Megami ~Yuvuraia~ (自由の女神 ~ユーヴライア~)
Ureshii! Tanoshii! Daisuki! (うれしい!たのしい!大好き!)
Himawari (ヒマワリ)
THE NEVER ENDING STORY ~Kimi ni Himitsu wo Oshieyou~ (君に秘密を教えよう)

–ENCORE–

Kibou no Hikari ~Mirai wo Shinjite~ (希望の光 ~奇跡を信じて~)
Osaka's Osaka Castle Hall, March 28, 2015
Akikaze no Answer (秋風のアンサー) (Flower)
Gomennasai no Kissing You (ごめんなさいのKissing You)
Sayonara, Alice (さよなら、アリス) (Flower)
Shirayukihime (白雪姫) (Flower)
Konna ni mo (こんなにも) (Dream)
Seifuku Dance
Mirai e (未来へ)
Winter Love ~Ai no Okurimono~ (愛の贈り物)
Rock n Roll Widow (ロックンロール・ウィドウ)
Jiyou no Megami ~Yuvuraia~ (自由の女神 ~ユーヴライア~)
Ureshii! Tanoshii! Daisuki! (うれしい!たのしい!大好き!)
Himawari (ヒマワリ)
THE NEVER ENDING STORY ~Kimi ni Himitsu wo Oshieyou~ (君に秘密を教えよう)

–ENCORE–

Kibou no Hikari ~Mirai wo Shinjite~ (希望の光 ~奇跡を信じて~)
Tour Dates
External Links