Be sure to check out our
Facebook page
for the latest changes and to interact with thousands of fans worldwide just like you!
E-Girls (Japanese group)
From generasia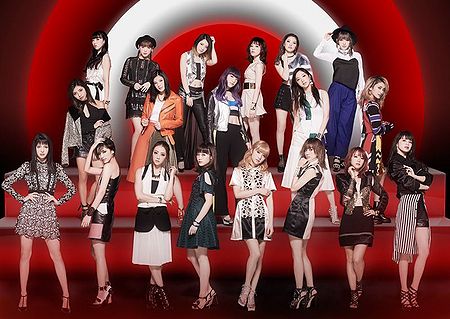 E-girls is a Japanese pop collective girl group under the avex trax sub-label rhythm zone, and managed by the LDH agency. E-girls are a collaboration girls unit that features all the members of the girl groups Dream, Happiness, Flower, and three original members who debuted as part of the group. The group name stands for EXILE Girls Unit.
Members
Sub-Units
Trainees
Former Members
Information
2011-2012: Debut and "Follow Me"
During their formation in late 2011, it consist of 21 members which include all the members of Dream, Happiness and FLOWER before the departure of Dream's Sayaka and Happiness' MIMU going on hiatus. In 2012 for the release of their second single two new members joined the group, Kizu Reina and Suda Anna, both being members of EGD a dance group of EXPG (EXILE' Dance Academy).
By the time they prepare to release the third single, the total number of members got up to 31 people (two of them on hiatus) due to the addition of bunny and more EGD. The increase in number lead to a new system for the release of their next single where the girls are required to undergo a period of training and afterwards, the girls who excelled and fit the image of the single would be chosen to participate. 16 girls made the cut and were featured on their third single, "Follow Me".
2013: Lesson 1 and rise of popularity
In late 2012 three members from the undebuted group bunny left E-Girls, and the 28 remaining members released the single "THE NEVER ENDING STORY". Less than one month later the same line-up released the single "CANDY SMILE", however only 12 members were featured on the music video.
In early 2013 the group released their first studio album, Lesson 1. It ranked #1 on Oricon's weekly albums chart, selling 57,337 copies in its first week. In May, Suda Anna and Kawamoto Ruri, previously from the undebuted groups on E-girls, joined the group Happiness. Some months later, Kizu Reina, from EGD, left E-girls. In September, Nakajima Momoka joined EGD, replacing Kizu Reina, and all 29 members were featured in the single "Gomennasai no Kissing You". Momoka was known for being the girl reading the book in the PV of "THE NEVER ENDING STORY" and appearing in the dance intro of the PV of "CANDY SMILE". In October 11, LDH announced a new member on E-girls, Watanabe Marina, being part of EGD. A week later, in October 18, it was announced that Mizuno Erina left both E-girls and Flower to focus on her actress career. At the same day it was announced their seventh single, "Kurukuru", featuring 18 members on the jacket covers and music video. The group gained considerable momentum in 2013, appearing on year-end shows and being invited to Kouhaku.
2014: COLORFUL POP, member changes and first tour
In January 5, 2014, Dream's Aya was appointed by HIRO as leader of E-girls. 10 members of the group, Shizuka, Kaede, Fujii Karen, Suda Anna, Fujii Shuuka, Bando Nozomi, Sato Harumi, Takeda Kyoka, Ishii Anna and Yamaguchi Nonoka, starred in the drama Koibumi Biyori, which broadcast started in January 6. Opening theme song of the drama, "Diamond Only", was released as their eighth single on February 26. The group released their second album, COLORFUL POP, in March 19 and made their first national tour in July, titled COLORFUL LAND. In April 7, Sugieda Mayu left both Happiness and E-girls. Two weeks later, in April 20, Takeda Kyoka left the group to focus on her studies and her acting career.
In June 12, LDH announced that the group would be releasing three singles consecutively, one per month. The first single, "E.G. Anthem -WE ARE VENUS-", was released in July 9 and included all members. Since this release, the members from bunny and EGD were mixed into one unit, simply titled as the name of the group, E-girls. The names bunny and EGD were also removed from their official website. The second single, "Odoru Ponpokorin", was released in August 13 and included only 14 members in the music video and jacket covers. The song was used as the opening theme song of the anime Chibi Maruko Chan. The third single, "Highschool♡love", was released in September 10 and included all members on it. The song was used as the theme song for the Fuji TV's drama "GTO".
In October 12, 2014, Muto Chiharu announced her departure from both E-girls and Flower to study abroad. The group released their twelfth single, "Mr. Snowman", in November 26.
2015: E.G TIME, second tour and new member system
The group released their third album, E.G. TIME, in January 1, 2015. They are set to start their second national tour titled COLORFUL WORLD in February.
In January 27, LDH announced a new system for the members line-up, called E-girls Pyramid. Following the same system used for "Follow Me", the girls undergo a series of reviews configured anually. The members who needs more training gets classified as Rabbits (for more than high school) or Bunnies (junior high school or less). With that, members Takebe Yuzuna, Hagio Misato, Inagaki Rio, Ikuta Risa, Nakajima Momoka and Watanabe Marina returned to the training period at EXILE PROFESSIONAL GYM, reducing E-girls to 20 members.
In October 7, Ichiki Kyoka announced graduation from both Flower and E-girls. It was also announced that Dream's Erie would be "graduating" from her position as a performer but still giving support to the group being a DJ.
2016: E.G. SMILE -E-girls BEST- and Summer singles
Throughout the Summer of 2016, E-girls will release two singles with the concepts of "E.G. Pop" and "E.G. COOL" respectively, E.G. summer RIDER on July 20th and Pink Champagne on August 10th.
Discography
Studio Albums
Best Albums
Remix Albums
Singles
Digital Singles
Compilations / Others
Filmography
Tours
Publications
Photobooks

[2014.10.17] Colorful Diary (カラフル・ダイアリー)
Trivia
External Links