Welcome to the
new Generasia
, now with new features and a mobile-friendly browsing experience. Be sure to check out our
Facebook page
for the latest changes and to interact with thousands of fans worldwide just like you!
Shigetome Manami
From generasia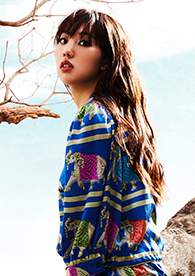 Shigetome Manami (重留真波) is a performer in the Japanese pop vocal and dance unit Flower. She is one of the four original members, along with Mizuno Erina, Fujii Shuuka and Nakajima Mio. In December 2013, she was announced as new leader of Flower.
Manami left E-girls in June 2017.
Profile
Name: Shigetome Manami (重留真波)
Birthdate: December 11, 1994
Birthplace: Miyazaki Prefecture, Japan
Blood Type: O
Height: 160 cm
Favorite Artists: Kuroki Meisa, Amuro Namie, BIGBANG, Christina Aguilera, Rihanna
Favorite Movies: Hana Yori Dango, Burlesque
Favorite Food: Italian food, Udon, Corn dogs, Salad
Favorite Flower: Hibiscus flowers, Tulips, Sunflowers
Hobbies: Surfing, shopping
Bands / Groups:
E-girls Song Participation
Main video
Seifuku Dance