Be sure to check out our
Facebook page
for the latest site updates and to meet thousands of fans like you from across the globe!
Kalafina
From generasia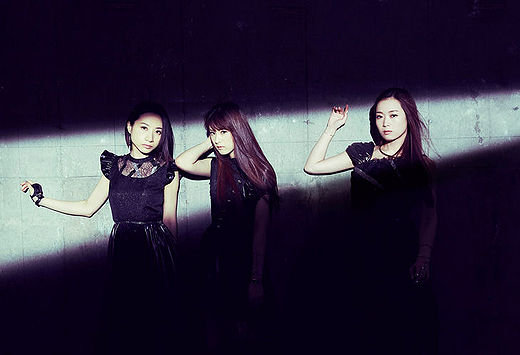 Kalafina is a Japanese pop group founded by Kajiura Yuki that originally was to perform theme songs for the movie series Kara no Kyoukai -the Garden of sinners-. They have since continued on after that objective was complete. They are currently signed to Sony Music Entertainment.
Members
Support Members
Former Members
Information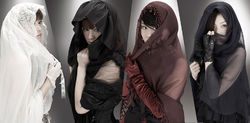 Seventh Heaven
By the end of 2007, Kajiura Yuki started working on the soundtrack of the movies adaption of Kara no Kyoukai novels. She then 'founded Kalafina to perform seven theme songs for even movies. Their first single, "oblivious" was released on January 23, 2008 with vocals done by KEIKO and WAKANA from the FictionJunction project. The single features theme songs for the first three movies and reached #8 on the Oricon weekly charts. But at this time, the singers' names were not revealed and it was announced that Kalafina will have more vocalists chosen by Kajiura and Sony from a 30,000 participants audition. Their names was finally announced in the "Dream Port" concert when Kalafina performed its opening act.
The new vocalists, HIKARU and MAYA were introduced in their second single, "sprinter / ARIA" and it is the their only single performed by all four vocalists. It was rumored that MAYA was a high-school student and she had to focus on her studies. Subsequently, she was replaced by Kaida Yuriko on their live performances of "sprinter" and "ARIA". Their future releases would only vocally done by KEIKO, WAKANA, and HIKARU. Kalafina released their debut album and fourth single on March 4, 2009. "Seventh Heaven" brought an end to their tie-ins with Kara no Kyoukai.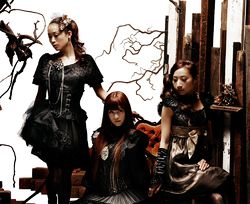 Red Moon
Breaking away from their original concept, their fourth single, "Lacrimosa", which was released simultaneously with their debut album, was the second ending theme to Kuroshitsuji. On May 7, 2009, it was announced during Kalafina's "Musou no Rakuen" concert that MAYA was a seasonal member for "sprinter / ARIA" and Kalafina would continue from now on with three members. A new single also was revealed along with the news, "storia", theme song to the TV program Rekishi Hi wa Historia. Three months later, they released their sixth single, "progressive". On January 2010, Kalafina returned to anime tie-ins with their seventh single, "Hikari no Senritsu" which was chosen to be the opening theme for Sora no Oto. With the popularity of the anime, Kalafina's name also raised in anime fans. Following the success of "Hikari no Senritsu", they announced their sophomore album, "Red Moon".
After Eden
Following the release of their second album, "After Eden", they took a short break for lives before returning with their eighth single, "Kagayaku Sora no Shijima ni wa" on September 15. On December 1, 2010 they released their first DVD and Blu-ray containing the live performance of "Kalafina LIVE 2010 "Red Moon" at JCB HALL ~ Kajiura Produce 3rd Anniversary LIVE TOUR", as well as documentary about their Asia Tour 2010. Their ninth single "Magia" was released on February 16, 2011, with the title track used as the ending theme for the anime Mahou Shoujo Madoka☆Magica while the B-side song "snow falling" was used as the ending theme song for Kara no Kyoukai's epilogue movie Kara no Kyoukai: Shousho. Another song was announced and was titled "symphonia", used as ending theme for Rekishi Hi wa Historia's.
Japanese Discography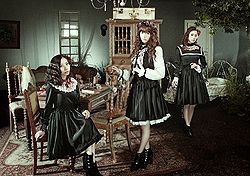 Studio Albums
Mini-Albums
Compilation Albums
Live Albums
Singles
Video Releases
Compilations / Others
European Discography
Best Albums
Publications
Books
[2011.09.16] Kalafina Record
[2013.01.23] Kalafina History 5th
Calendars
[2011.09.24] Calendar 2012
[2012.09.29] Calendar 2013
[2013.10.26] Calendar 2014
External Links