Welcome to the
new Generasia
, now with new features and a mobile-friendly browsing experience. Be sure to check out our
Facebook page
for the latest changes and to interact with thousands of fans worldwide just like you!
Wrestling Club (Sakura Gakuin)
From generasia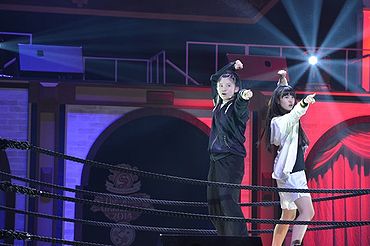 Wrestling Club (プロレス同好会) is a sub unit of the Japanese idol group Sakura Gakuin. They are the ninth sub unit to debut from the group, following Twinklestars, BABYMETAL, Minipati, SCOOPERS, sleepiece, Pastel Wind, Kagaku Kyumei Kiko LOGICA?, and Purchasing Club. The members are Taguchi Hana and Isono Rinon. Taguchi Hana left the unit after her graduation on March 29, 2015 and unit became inactive since then. Isono Rinon graduated on March 27, 2016.
Members
Songs