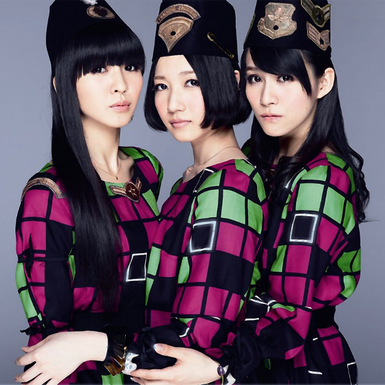 It's been revealed today that techno-pop trio Perfume will be releasing a DVD of their Tokyo Dome concert 1 2 3 4 5 6 7 8 9 10 11 on February ninth next year. Celebrating their ten years together as a group and the fifth anniversary of their major debut, the November third concert was Perfume's first ever at Tokyo Dome.
Though already broadcast on WOWOW last month, the DVD will contain performances cut from the TV version (such as the highly anticipated "575"), as well as differing camera angles, etc.
The limited edition of the DVD will contain a multi-angle version of the "Perfume no Okite" corner, individual member-specific shots of their "Perfume" performance and much more bonus footage yet to be announced. Also enclosed in this version of the DVD will be a special sticker replica of Perfume's staff pass.
The setlist and bonus DVD contents are as follows:
SETLIST
00. GISHIKI
01. Secret Secret
02. Fushizen na Girl
03. GAME
04. One Room Disco
05. Natural ni Koishite
06. love the world
07. I still love U
08. 575
09. Perfume no Okite
10. VOICE
11. Computer City
12. Electro World
13. Perfect Star Perfect Style
14. Dream Fighter
15. P.T.A. Corner
16. Jenny wa Gokigen Naname
17. Computer Driving (Intro) ~ Perfume
18. Chocolate Disco
19. Puppy Love
20. wonder2
E1. Nee
E2. Polyrhythm
BONUS FOOTAGE
1. Perfume no Okite -multiple angles-
2. Perfume -A~chan Ver.-
3. Perfume -Kashiyuka Ver.-
4. Perfume -Nocchi Ver.-
5. ????
6. ****
7. …………
8. !!!!
(details are yet to be revealed)