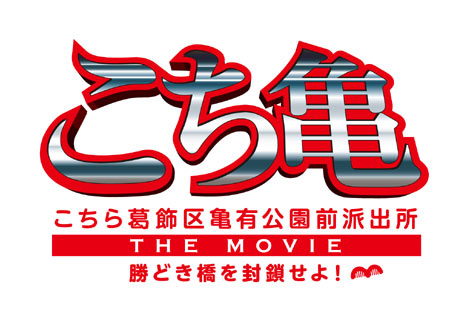 Details about the upcoming "Kochira Katsushikaku Kameari Kouenmae Hashutsujo" ("Kochikame") movie were revealed on Thursday. Actress Fukada Kyoko (28) has joined the cast, and distributor Shochiku is aiming to turn the film into a successful series.
As previously announced, the movie is a continuation of the 2009 TBS drama series, originally based on Akimoto Osamu's comedy manga of the same name. SMAP's Katori Shingo (34) is naturally returning in the starring role of the police officer Kankichi Ryotsu (aka Ryo-san), who gets involved in various misadventures with the unusual people in the neighborhood where his police box is located.
The movie is formally titled "Kochira Katsushikaku Kameari Kouenmae Hashutsujo THE MOVIE: Kachidokibashi wo Fusaseyo!" This is a reference to the hit movie "Odoru Daisousasen THE MOVIE 2: Rainbow Bridge wo Fusaseyo!," and the "Kochikame" logo even uses the same font as "Odoru Daisousasen."
The returning cast includes Karina, Hayami Mocomichi, and Ibu Masato. Fukada is joining as Momoko, Ryo-san's former classmate and first love. Tanihara Shosuke, Sawamura Ikki, Natsuyagi Isao, and Hirata Mitsuru also appear in the movie.
Kawamura Yasuhiro is directing the film, which is almost done shooting. Theatrical release is scheduled for summer of this year. Producers want to turn it into a series of films, and Katori seems to have hinted that a total of three movies have been green-lit so far.
Sources:
Eiga.com
Oricon
Sponichi Annex