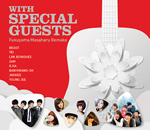 Several popular Asian artists worked together on the remake version of Fukuyama Masaharu's best album "THE BEST BANG!!" Since the project is part of his push into the rest of Asia, the album will be released in six countries overseas: Taiwan, Singapore, Malaysia, Thailand, Hong Kong, and Korea.
Fukuyama will hold a press conference in Taiwan on March 24 to reveal more details about the project. The original version of "THE BEST BANG!!," released in Japan last November, consists of three CDs, but the "With Special Guests -Fukuyama Masaharu Remake-" version will include a fourth CD with 8 tracks. According to the singer's website, the songs being remade and the artists involved are:
Niji (BEAST)
Hotaru (TEI)
Himawari (Lim Jeonghee)
Saiai (2AM)
milk tea (G.NA)
Gunjou -ultramarine- (Ban Kwang-Ok)
Koibito (Joohee)
Hatsukoi (Young Jee)
Fukuyama's other recent activities in Asia include his promotional work for the NHK taiga drama "Ryomaden," which is getting broadcasts in several countries.
The album will be released on March 30, except in Korea where it will be released on April 20.
Source:
Sankei Sports
Official Website