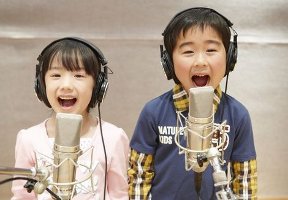 Child star Ashida Mana (6) will make her singing debut this spring, providing the theme song for her upcoming drama series "Marumo no Okite." She and co-actor Suzuki Fuku (6) are forming a temporary unit called "Kaoru to Yuki, Tama ni Mook" to sing the song, titled "Maru Maru Mori Mori!"
"Marumo no Okite," which was announced in February, is a family drama with a touch of fantasy about a man (played by Abe Sadao) who becomes the guardian of his friend's twin children Kaoru and Yuki (played by Ashida and Suzuki). The two kids find a dog named Mook, and it turns out that he can speak like a human.
As the name of their unit suggests, Ashida and Suzuki are singing the theme song as their characters, along with the dog Mook. They already recorded the song at a Tokyo studio at the end of March. The two had to learn a dance created by Hamada "Peco" Miwako, who also choreographed the "Gake no Ue no Ponyo" song.
"Maru Maru Mori Mori!" will be released on May 25.
Source:
Oricon