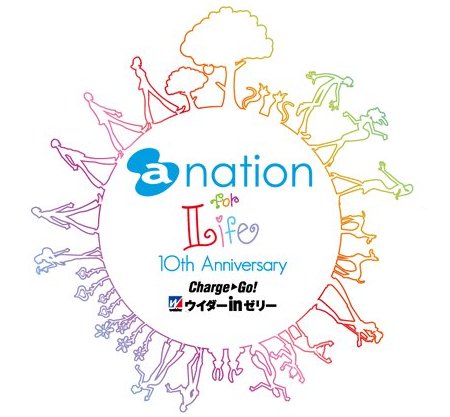 Avex held a press conference last week to announce details for this year's a-nation tour, which will proceed despite the effects of the earthquake in the Tohoku region. This will be the 10th time that the annual tour has been held, and its full name has been set as "a-nation 10th Anniversary for Life: Charge & Go! Weider in Jelly."
While the expected Avex artists such as Hamasaki Ayumi and Koda Kumi are participating, this year's lineup also includes idol group AKB48 for the first time. While AKB48 is not signed under Avex, their sub-units French Kiss and DiVA are.
The official a-nation website has also released information about the lineups for each day of the tour. The artists that have been announced so far are:
The tour will consist of 7 shows at 5 venues, starting with Ehime (July 30), then Fukuoka (August 6), Aichi (August 13), Osaka (August 20-21), and Tokyo (August 27-28).
Tickets will be sold for 7,900 yen, with 100 yen of the price being donated to charity. In consideration of the power shortages caused by the earthquake and tsunami, Avex will be preparing power supply trucks at the venues. The company also plans to make the Tokyo concert on August 28 available for "free public viewing" at Ito Yokado shops in the tsunami-stricken areas.
In addition, Avex will sell goods bearing the logo "for Life," and auction off items like the artists' stage outfits. Part of the proceeds will be donated to charity.
Sources:
Mantan Web
a-nation