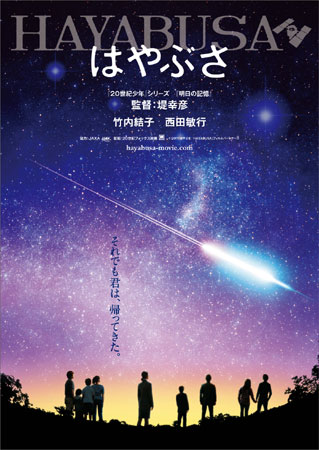 Both Shochiku and Toei are already working on separate films about Hayabusa, the unmanned space probe that returned to Earth last year, but now the U.S.-based studio 20th Century Fox has also announced that it is producing a Hayabusa movie. The studio has tapped director Tsutsumi Yukihiko and lead actress Takeuchi Yuko for the project, which will be released later this year.
Sports Hochi reports that Fox plans to release the movie internationally, including in the United States.
Simply titled "Hayabusa," the movie depicts the challenges faced by the JAXA staff over the seven years of the Hayabusa space flight. Takeuchi plays a JAXA researcher carrying additional responsibilities as part of the publicity department and camera crew, while Nishida Toshiyuki plays the boss who recruited her.
Filming is already in progress and will finish in late May. Theatrical release in Japan is scheduled for October 1, 2011, and an official website has already launched.
Shochiku and Toei's films about Hayabusa are slated for release in 2012.
Sources:
Mantan Web
Eiga.com
Sports Hochi