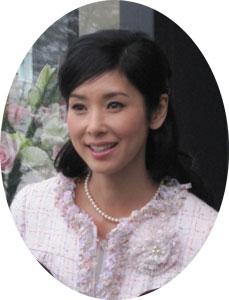 Hayashi Mariko's novel "Karyu no Utage" is being adapted as a television drama series, starring actress Kuroki Hitomi (50). The series will run for eight episodes on NHK, in a Tuesday 10:00pm time slot.
"Karyu no Utage" tells the story of a housewife (Kuroki) from a middle-class household who has tried to raise her son with the belief that putting in great effort will result in even greater results, but his laziness leads to conflict between them. On top of that, he meets a woman over the Internet who is a part-timer like he is, and he later declares that they're going to marry. As the mother faces a widening gap between her ideal and her reality, the story explores the same gap that exists in modern society.
The cast also features Nogiwa Yoko, Yo Kimiko, Kato Natsuki, Minami, Watanabe Ikkei, and Endo Kenichi. The actor playing the son has not yet been announced.
The series premiere is schedule for May 31. Up-and-coming singer Takahashi Yu has written the show's theme song, titled "Dare ga Tame ni Kane wa Naru." It will be released as his next CD single in June.
Sources:
Natalie
Kuroki Hitomi Official Website