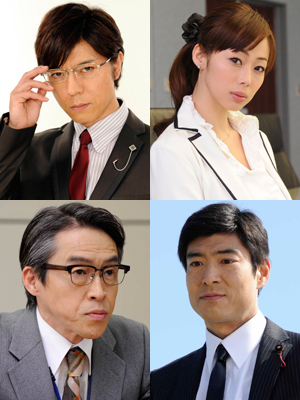 A few more cast members for the live-action adaptations of "Arakawa Under the Bridge" were revealed today: Kamikawa Takaya, Takashima Masahiro, Asano Kazuyuki, and Inoue Waka.
This is the fourth cast announcement for the project, which stars Hayashi Kento and Kiritani Mirei. Other previously announced names include Shirota Yu, Katase Nana, and Abe Natsumi.
Kamikawa has been cast as Ichinomiya Seki, the father of the main character Riku (Hayashi) and the head of the Ichinomiya Company. Takashima will play a government ministry member named Takayashiki, who is friends with Seki. Asano and Inoue will play the Ichinomiya Company employees Takai and Shimazaki, respectively.
With this announcement, almost all of the major characters have been announced, with the notable exceptions of the Village Chief and Hoshi. According to the official website, the final cast announcement is coming soon.
Iizuka Ken ("SAI-REN," "Summer Nude") is directing the adaptations. The drama series will begin in July in a late-night time slot on MBS and TBS, and the film version is currently scheduled for release in February 2012.
Sources:
Eiga.com
Cinema Today