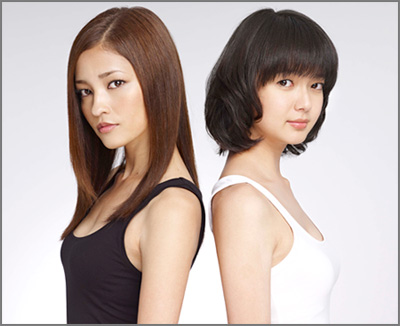 Kuroki Meisa (23) and Tabe Mikako (22) are acting together for the first time, co-starring in a drama series this summer called "Jiu: Keishichou Tokushuhan Sousakei." The two will play police detectives on the same special investigation team, though their differing personalities lead them to constantly clash with each other.
Tabe has previously starred in a few television dramas, but this will be the first lead role in a series for Kuroki.
The show is based on the "Jiu" suspense novel series by Honda Tetsuya. Motoko (Kuroki) is a fierce, physically capable investigator with a strong battle instinct, while Misaki (Tabe) is more intellectual, kind-hearted, and naive. The two of them are both working to track down Jiu, the ringleader responsible for a series of brutal crimes.
The original novels also detailed the characters' love lives, including intense bedroom scenes between Motoko and her lover. It is not yet known how the drama series will depict that aspect of the story.
Shirota Yu (25) plays a mysterious man connected to Motoko somehow, while Kitamura Yukiya (37) plays a police superior. According to TV Asahi, the role of Jiu will not be played by a Japanese person, but instead by a popular music artist from overseas.
The series will begin in July and air in TV Asahi's Friday 11:15pm time slot.
Sources:
Sankei Sports
Official website