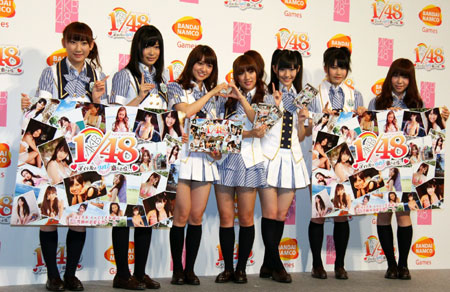 On Monday, Bandai Namco Games announced that it is releasing a sequel to the PlayStation Portable game "AKB 1/48 Idol to Koi Shitara…" that came out last December. The sequel will again be an "ultimate dating fantasy game" involving all 48 regular members of idol group AKB48, but this time it will be set on the island of Guam.
Like the first game, the sequel "AKB 1/48 Idol to Guam de Koi Shitara…" allows players to pursue a romance with their favorite member, turning down the other 47 members in the process. The whole story has been rewritten for the setting in Guam, and the game will include scenes with the members in bikinis on the beach. For another scene, member Oshima Yuko said she was granted her dream of riding on a Harley Davidson motorcycle in Guam.
The game is being released on October 6, 2011. The standard edition will retail for 5,229 yen and come with a photograph of a member. There will also be a limited-time edition for 7,329 yen that comes with three photographs and a UMD with video clips that were not used in the game, as well as a first-press limited edition for 13,629 yen that comes with several extras, including a making-of DVD and a Blu-ray Disc with the confession scenes from the first game.
For the photographs, there are 4 versions for each member, for a total of 192 different pictures.
Sources:
Eiga.com
Sankei Sports
Natalie
Mantan Web