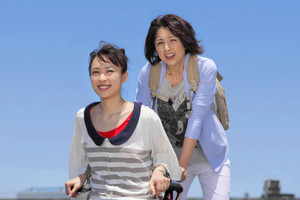 Actress Sakurai Atsuko (38) has been chosen to star in Fuji TV's upcoming daytime drama "Dokuhime to Watashi" (Monday-Friday, 1:30pm). This is her third time starring in that time slot, as she was previously in "Utsukushii Wana" in 2006 and "Yuwaku no Natsu" in 1993.
The show is described as a "human comedy" about an ordinary, single publishing editor (Sakurai) who encounters a young aspiring author (Kurokawa Mei) who has to use a wheelchair. Because of her sharp tongue, the young woman is referred to as a "Dokuhime," or "poison princess." As the two grow through their clashes with each other, they also try to search for their own happiness.
Kato Kazuki (26), Saori (23), Shibue Joji (28), Aimoto Kumiko (53), Oginome Keiko (46), Ito Maiko (46), and Kunihiro Tomiyuki (58) also appear in the series.
A total of 39 episodes are planned, starting on September 5.
Sources:
Sankei Sports
Chunichi Sports
Oricon