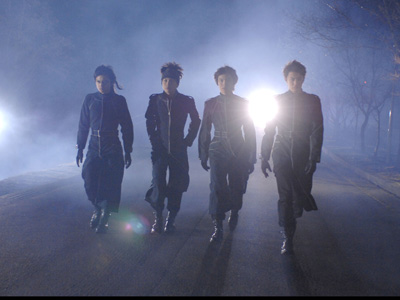 The popular manga series "Messiah," illustrated by Hiyoshimaru Akira, is being adapted as a live-action film. The movie is being directed by Kaneko Shusuke ("Death Note," "Azumi 2") and stars young actor and D2 member Arai Atsushi (18). The two worked together once before on the movie "Pole Dancing Boys," which came out earlier this year.
"Messiah" is currently serialized in Kadokawa Shoten's magazine "Gekkan Asuka." Arai plays the part of Kaido Eiri, a candidate for a group of specially chosen spies for the government's public security bureau. Their current mission is to monitor a high school student, so Kaido is sent to pose as a student and infiltrate the school, but he soon becomes conflicted between work and friendship.
Arai's supporting cast features "Kamen Rider Decade" actor Inoue Masahiro (22), "Kamen Rider W" actor Kinomoto Minehiro (21), and fellow D2 member Jinnai Sho (23). Others include Matsuda Satoshi, Aizawa Rina, Nakamura Arisa, Fuuta (aka Akanishi Reio), Nitta Masaaki, Uchiyama Koki, Kato Keisuke, Hosogai Kei, Takahashi Ryuki, and Ozawa Maju.
"Messiah" opens in theaters on October 15, 2011.
Sources:
Cinema Today
Official Website