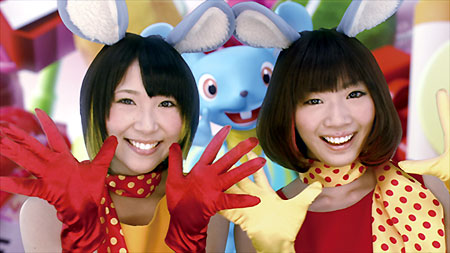 AKB48 members Nakaya Sayaka (Team A) and Tanabe Miku (Team K) have formed a temporary unit called BABY GAMBA, and on September 14 they will release a DVD single titled "Ee janai ka."
The unit is connected to Saito Atsuo's children's book "Boukenshatachi Gamba to Jugohiki no Nakama," originally published in 1972 and adapted as the anime series "Gamba no Bouken" in 1975. The story told the adventures of a rat named Gamba and his 15 friends.
For the music video of "Ee janai ka," Nakaya and Tanabe are costumed in rat ears and tails, and they appear in other costumes as well. A computer-generated version of Gamba appears along with them in the video.
A preview of the song has been posted on Avex's YouTube channel, and an official website has opened for the project. There are also plans for Nakaya and Tanabe to appear as BABY GAMBA at events on September 17-19 in the Tohoku region.
Source: Mantan Web