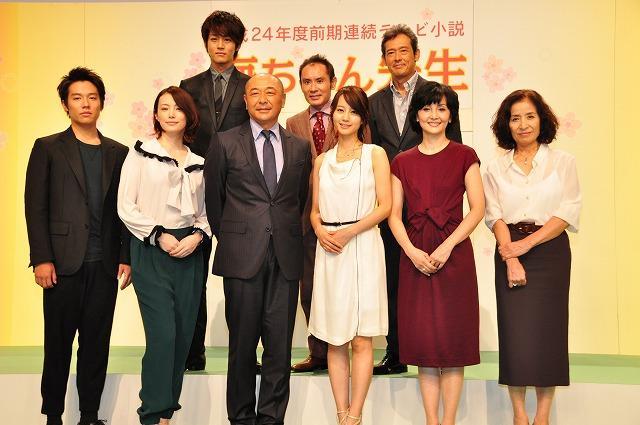 On Tuesday, NHK held a press conference to reveal additional cast members for the 2012 spring-summer morning drama series "Umechan-sensei." The show was announced this past June with actress Horikita Maki (22) as the lead.
Set in Tokyo in 1945 just after the end of World War II, the story revolves around Shimomura Umeko, the youngest of three children of a university hospital doctor. Despite being overshadowed by her older brother and sister, she resolves to become a local doctor.
Takahashi Katsumi (50) and Minami Kaho (47) will play the parents of the Shimomura family, while Mimura (27) and Koide Keisuke (27) will play her Umeko's older siblings. Matsuzaka Tori (22) has been cast as Umeko's childhood friend Nobuo.
The cast also features Baisho Mitsuko (64) as Umeko's grandmother, Tsurumi Shingo (46) as Umeko's uncle, and Kataoka Tsurutaro as Nobuo's father. Rakugo artist Hayashiya Shozo (48) will be in charge of the narration.
"Umechan-sensei" starts on April 2, 2012.
Sources:
Mantan Web
Eiga.com