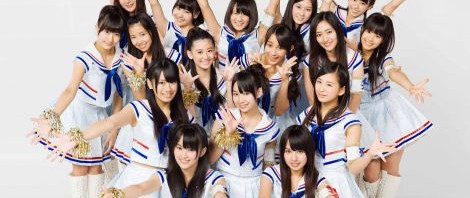 Idol group NMB48 dominated the sales charts this week, moving more than 265,000 copies of their sophomore single, "Oh My God!" Combined with their debut single "Zetsumetsu Kurokami Shoujo" in July, they have now become the first artist since KAT-TUN five years ago to sell more than 200,000 copies in the first week for their first two singles. Among female artists only, they are the first ever to achieve that feat.
NMB48 is only the third female artist ever to chart at #1 with their first two singles. The only others to accomplish that were Yakushimaru Hiroko in 1983 and Sawajiri Erika in 2007.
On the album rankings, NEWS sub-unit Tegomass took the top spot with their 3rd album, "Tegomass no Mahou." This is their second chart-topping album, after their 1st album "Tegomass no Uta."
Tegomass – Tegomass no Mahou – 60,504
Saito Kazuyoshi – 45 STONES – 28,372
Coldplay – Mylo Xyloto – 28,049
Various Artists – EXIT TUNES PRESENTS Vocalocluster feat. Hatsune Miku – 15,188
Noel Gallagher's High Flying Birds – Noel Gallagher's High Flying Birds – 12,648
Kimura Kaela – 8EIGHT8 – 12,240
Evanescence – Evanescence – 10,911
Tohoshinki – TONE – 10,506
In DVDs, enka singer Hikawa Kiyoshi sold roughly 10,000 copies of his "Jounetsu no Mariachi" to chart at #5 on the overall rankings. At the same time, video clips for 6 of his early singles were released on DVD for the first time, and all of them ranked within the Top 100 this week (#47, #48, #49, #58, #59, and #68).
With this, Hikawa is now tied with Fukuyama Masaharu for the record of "most music DVDs in the Top 100 by a single artist."
Sources:
Oricon (weekly single ranking)
Oricon (weekly album ranking)
Oricon
Oricon
Oricon