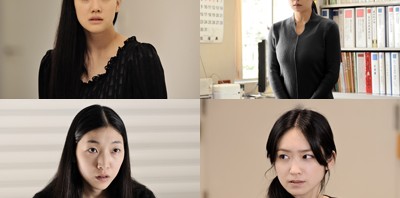 The upcoming drama mini-series "Shokuzai," starring Koizumi Kyoko, had more of its cast revealed today. Actresses Aoi Yu, Koike Eiko, Ando Sakura, and Ikewaki Chizuru have been officially added to the show.
"Shokuzai" is based on a novel by "Kokuhaku" author Minato Kanae. The story revolves around a mother seeking revenge for the murder of her young daughter Emiri 15 years ago, confronting the four women who had witnessed the killer at the time.
The four women are being played by Aoi, Koike, Ando, and Ikewaki. 15 years earlier, when they were elementary school students, they had been playing with Emiri up until just before her death. They were the first to discover her body, and although they saw the culprit's face, they were unable to remember it well enough to identify the person. As a result, Emiri's mother (Koizumi) demanded that they find the killer, or else find a way to atone for themselves to her satisfaction. Now grown up, those women find her words coming back to haunt them as tragedy begins to befall them.
The story is being told in five episodes on WOWOW Prime, starting on January 8. The first episode will be broadcast for free.
Sources:
Mantan Web
Cinema Today