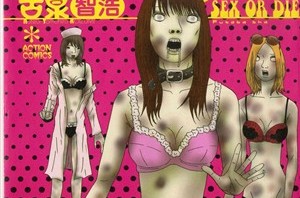 Koizumi Tomohiro's zombie manga "Life Is Dead" will be adapted to the big screen next year. D2 member Arai Atsushi (Kamen Rider Aqua from the movie "Kamen Rider × Kamen Rider Fourze & OOO: Movie War Mega Max") will star as the protagonist Akaboshi.
"Life Is Dead" is set in a city in the near future. An "undead virus" is quickly spreading, gradually turning the infected into the walking dead. Akaboshi is a young man who is unable to find a job, due to being infected with the virus just before graduating from high school. The story depicts Akaboshi's final days, together with the people closest to him.
Idol Higa Rino will play the heroine. Other cast members include gravure idols Shihono Ryo and Nakajima Airi, as well as fellow D2 member Akutsu Shintaro.
Director Hishinuma Kosuke is also handling the screenplay. Release is scheduled for spring 2012.
Sources:
Anime News Network
Cinema Today