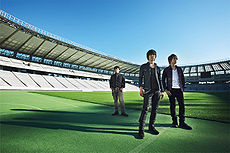 Remioromen vocalist Fujimaki Ryota will make his solo debut next year. On February 29, he will release his first single, titled "Hikari wo Atsumete."
His decision to start a solo career came from his encounters with victims of the March 11 earthquake and tsunami. Since that disaster, he has been internally questioning the role that music can play. Over the past 9 months, he has been secretly making visits to schools in Miyagi, Iwate, and Fukushima to do volunteer work.
At the shelters in those areas, he has been fulfilling requests to hear him to sing and play his guitar. Over time, he says he experienced a new feeling as a singer-songwriter.
The theme of "Hikari wo Atsumete" is "connection." With light representing hope for the future, the ballad expresses a desire for everyone to gather even the least bit of light and share it for the world.
Fujimaki commented, "There's a view of the world that can only be expressed as a band, but there's also one that can be expressed as a solo artist." He continued, "I'm making you all wait on our activities as a band, but with everyone's feelings of gratitude in my heart, I want to take my first step in my solo activities."
Source:
Sports Hochi