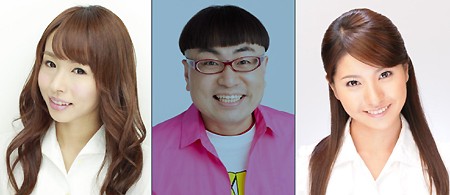 The popular 1990s television show "Gilgamesh Night" (TV Tokyo) is being revived on satellite channel BS Japan. Talento Ijiri Okada, who appeared on the original show, will serve as the new show's host, along with SDN48's Ohori Megumi and talento Kimura Konomi.
"Gilgamesh Night" was a late-night variety show that aired from October 1991 to March 1998. The sex-oriented show was known for bringing one of its hosts, the late AV actress Iijima Ai, into mainstream popularity.
The new show, titled "Gilgamesh Light," is said to be a "light" version of the show, though it will still focus on various topics of an adult nature.
BS Japan will broadcast "Gilgamesh Light" on Fridays at 11:00pm, starting on January 13.
Source:
Mantan Web