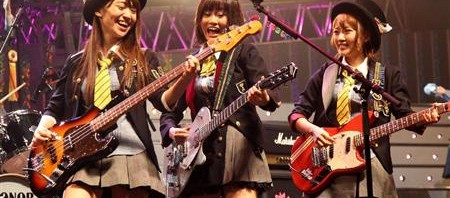 Last night, during the encore of the final day of AKB48's Request Hour concerts, the group gave a surprise performance of their next single, "GIVE ME FIVE!," an up-tempo graduation-themed song. 18 members took the stage as a band, with most of them playing musical instruments. Almost all of them had no prior experience with an instrument before practicing for this song.
Producer Akimoto Yasushi decided on the band concept last August, and the members have been training in secret since then, in between their busy schedules of concerts, events, and television shows.
Oshima Yuko used to play bass for a girls band she was part of during high school. Matsui Rena and Sashihara Rino also had some experience with the trumpet and trombone, respectively. Besides those three, the other members of the band learned their instruments from scratch.
The band includes Maeda Atsuko on guitar, Takahashi Minami on lead guitar, Kashiwagi Yuki on drums, Watanabe Mayu on keyboard, and Kojima Haruna on synthesizer.
"GIVE ME FIVE!" is being released on February 15. The accompanying DVD containing the song's music video was directed by Sugita Shigemichi, who has directed dramas such as "Kita no Kuni Kara" and movies such as the recent "Saigo no Chushingura." In the setting for the music video, the girls are part of a band named Baby Blossom.
Sources:
Sankei Sports
Sports Hochi