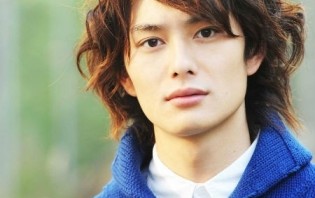 In April, Fuji TV is bringing back its Saturday night drama time slot (11:10pm-11:55pm). The first new show will be an adaptation of Esuno Sakae's popular manga "Mirai Nikki" ("Future Diary"), titled "Mirai Nikki -ANOTHER:WORLD-." Actor Okada Masaki (22) will star.
"Mirai Nikki" was serialized in Weekly Shonen Ace from 2006 to 2011. It was released in 12 tankoubon volumes, which have had more than 4 million copies printed. The story was also turned into a video game in 2010, an anime series in 2011, and a novel earlier this month.
The drama will use an original story that differs from the manga, revolving around 12 people who obtain a "future diary," which allows them write down "predictions" of the future that will come true. However, they are all part of a game of survival, in which they must use their diaries to try to kill each other and be the last one remaining, earning a place on the "God's seat."
Okada plays Hoshino Arata, a lazy college student who doesn't believe in spending effort or working toward the future. One day, he gets a diary (the "future diary") on his mobile phone, and he becomes involved in the game of survival.
The screenplay is being written by Watanabe Yusuke, who worked on the "20th Century Boys" and "GANTZ" movies.
Additional cast members and details will be revealed at a later date. Broadcast is scheduled to start in April.
Sources:
Mantan Web
Oricon