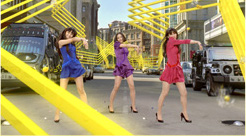 Electropop group Perfume has announced that they are changing record labels, from Tokuma Japan Communications to Universal J (part of Universal Music). Their first single under the new label will be "Spring of Life," scheduled for release this spring. The song is being used in a new commercial for Kirin Chuhai Hyoketsu, which begins airing on television today.
With the move to Universal, which has operations or licensees in 77 countries, Perfume is aiming to expand their audience globally. Their latest album "JPN," released last November, will be made available on the iTunes Store in 50 countries other than Japan, beginning on March 6.
In addition to updating their official website, Perfume has launched an official global website aimed at overseas fans. The site currently has a countdown timer, set to reach zero at 0:00 on March 6. The site also features tweets using the Twitter hashtag #Perfume_um.
The group has launched an official YouTube channel. The Kirin website also has video clips of the new Hyoketsu commercial and some making-of footage.