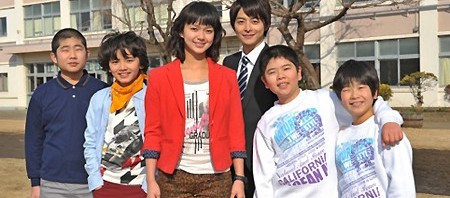 Actress Tabe Mikako (23) will star in a TBS drama series this summer, "Naniwa Shonen Tanteidan." The series will have her playing the part of a teacher for the first time.
"Naniwa Shonen Tanteidan" is based on a novel of the same name by mystery writer Higashino Keigo. The story was adapted as a television drama series once before in 2000, starring Yamada Mariya.
Tabe will play the role of Takeuchi Shinobu, an energetic elementary school teacher who loves mystery novels. The story takes place at a fictional school in downtown Osaka, and it follows Shinobu as she works together with a group of her students to solve various incidents around her.
The members of her "detective team" consist of Maeda Koki (13) of child comedy duo Maeda Maeda, Hamada Tatsuomi (11), and Takahashi Akira (12). Three of their female classmates will be played by Yagi Yuki (11), Hamabe Minami (11), and Ninomiya Akari (9).
Koike Teppei (26) will play Shuhei, a police detective who has feelings for Shinobu. Other cast members include Danta Yasunori as Shuhei's superior, Matsuzaka Keiko as Shinobu's mother, Kohinata Fumiyo as the school's head teacher, Yamamoto Koji, Nukumizu Yoichi, and Saito Yuki.
Hisamoto Masami, Tomita Yasuko, and Kimura Yuichi have already been announced as guests for the first episode.
TBS will broadcast the series on Monday nights at 8:00pm, starting in July.
Source:
Mantan Web