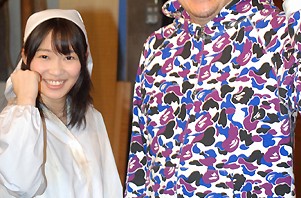 The NTV drama series "Muse no Kagami," starring AKB48 member Sashihara Rino (19), is being turned into a movie this summer. Other than the AKB48 documentary films, this will be Sashihara's first appearance in a movie.
"Muse no Kagami" has been airing in a late-night time slot since January of this year. The 15-minute episodes follow the story of a seemingly ordinary girl who gets noticed for her hidden acting talent, setting her on the path towards becoming an actress.
Fukuda Yuichi ("33-pun no Tantei," "Yuusha Yoshihiko to Maou no Shiro") will stay on as screenwriter and director. The movie will actually be a retelling of the drama's story, starting from when Sashihara's character's talents are first discovered.
During the press conference for the movie announcement, Fukuda said of Sashihara, "After seeing shows like 'Sashiko no Kuseni,' I've always thought that this girl is no good. I'm delighted to be working with such awful material." He continued, "She hasn't developed at all as an actress. But I love the Sashihara Rino who is always unselfishly trying her hardest."
Sashihara acknowledged, "I know nothing about acting, so I'm being taught everything from scratch. I'm terrible at acting." When asked by a reporter whether the other members of AKB48 are jealous about her acting career going so well, she asserted that everyone is cheering her on without jealousy.
The movie, tentatively titled "Eigaban: Muse no Kagami," is scheduled for nationwide release this summer.
Sources:
Mantan Web
Sankei Sports