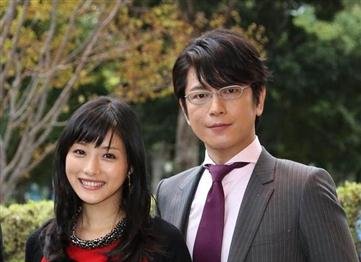 Fuji TV's quirky detective drama series "Lucky Seven" is going to return next year with a special episode. Naturally, Arashi member Jun Matsumoto will reprise his starring role, along with the rest of the main "seven," which includes Eita, Nanako Matsushima, Yo Oizumi, and Riisa Naka.
"Lucky Seven" aired in Fuji TV's coveted "Getsu 9" time slot (Monday 9pm) this past winter (January-March 2012). Ratings averaged 15.6%, the highest for any drama series on a commercial network that season.
The guest stars for the special episode will be actress Satomi Ishihara and actor Mitsuhiro Oikawa. Oikawa is playing a brilliant economist who is the mastermind behind some financial criminal activity, while Ishihara plays his captivating secretary. Tokita (Jun Matsumoto's character) and the rest of his detective team will have to take them down, but matters of the heart will interfere when he finds himself bewitched by Ishihara.
Filming started on October 13. Fuji TV plans to broadcast the episode next spring.
Source:
Sankei Sports