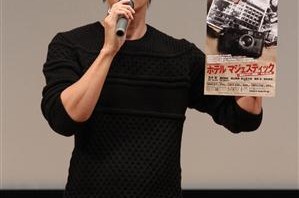 For the first time, popular actor and newly-appointed "Iron Chef" host Tamaki Hiroshi (32) will act in a stage play, and he will take on the starring role as a war photographer. The play, titled "Hotel Majestic," is an original work revolving around Sawada Kyoichi, the photojournalist who won the 1966 Pulitzer Prize for Photography for his pictures of the Vietnam War.
Sawada's life, which ended in 1970 at the young age of 34 when he was shot in Cambodia, has been adapted to media in the past, such as in the 1996 documentary film "SAWADA" and the 1999 television drama special "Kagayakeru Shunkan."
The play "Hotel Majestic," directed by Hoshida Yoshiko, is set at the historic Hotel Majestic in Ho Chi Minh City (then known as Saigon), which was said to have been frequented by foreign correspondents and spies during the war. The focus will be on the relationships between Sawada, his wife Sata, his colleagues, and his friends.
Tamaki's cast includes Sakai Miki (34) as Sawada's wife, Shibuki Jun (43), Tokuyama Hidenori (30), Bessho Tetsuya (47), and Gekidan EXILE member Akiyama Shintaro (30).
This will be Tamaki's first time playing the role of a war photographer, but he did also play a young man interested in photography in the 2006 movie "Tada, Kimi wo Aishiteru." Tamaki also happens to be a photography lover himself – it is said that he owns at least 15 cameras. Last November, he made his debut as a cameraman with an exhibit for jewelry brand TASAKI, using photographs he took in South Africa.
"Hotel Majestic" will be performed at the New National Theatre Tokyo on March 7-17, 2013, the Morinomiya Piloti Hall in Osaka on March 20-24, and the Meitetsu Hall in Nagoya on March 26-27.
Source:
Sankei Sports