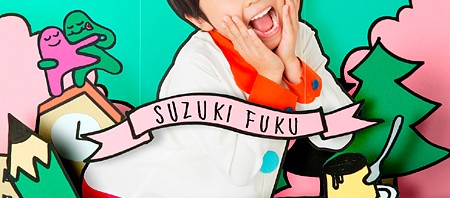 8-year-old child actor Suzuki Fuku will make his solo singing debut this December. It was confirmed on Wednesday that his first single (titled "Iya Iya YO~!!") has been given a release date of December 5, but ringtones for the song are already available.
Suzuki, along with "Kaoru to Tomoki, Tama ni Mook" co-star Ashida Mana (8), had a runaway hit last year with "Maru Maru Mori Mori!," which became one of the biggest sensations of 2011 and earned them both a spot at NHK's Kouhaku Uta Gassen. Ashida has already parlayed that into three solo singles and a mini-album under Universal Music. Clearly, the label is hoping for the same kind of success with Suzuki.
"Iya Iya YO~!!" is described as a catchy pop tune with a touch of tango, describing a young student's feelings of affection for a teacher. The song was recorded in a studio at the end of September, along with the coupling track "Boom Boom! Rock 'n' Roll."
Suzuki says that he wants to actively pursue singing, expressing his desire to release an album and hold a concert. He also says that he hopes to become a singer worthy of performing at Kouhaku again.
Sources:
Mantan Web
Sankei Sports