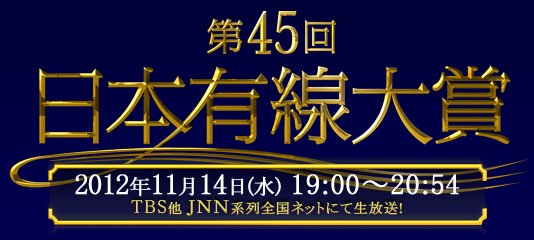 Most of the 45th Nihon Yusen Taisho winners have been revealed. Eight artists are receiving the music excellence award, which makes them eligible for the Grand Prize that will be announced on November 14th. The artists are: Otsuki Miyako, AKB48, Kouzai Kaori, JUJU, Hikawa Kiyoshi, Nishino Kana, Mizumori Kaori, and Fairies.
Started in 1968, the Nihon Yusen Taisho is awarded every year to artists and songs that have been highly requested over cable audio broadcasting networks. The Grand Prize is a little more subjective, as the award's committee makes its overall choice from the songs by the eight selected artists. So far, Hikawa has received the Grand Prize six times, and Kouzai has received it once.
Usuzawa Misaki and AKB48's Iwasa Misaki are receiving New Artist awards, and one of them will also be chosen on November 14th to receive the Best New Artist title.
The other awards being given are:
TBS will televise the awards ceremony live on November 14 at 7:00pm. Sawamura Ikki and Triendl Reina will host.
Sources:
Natalie
Nihon Yusen Taisho