Due to an influx of spam accounts getting through and joining the site, user registrations have once again been disabled until further notice as we work on a different solution.
Saito Yuki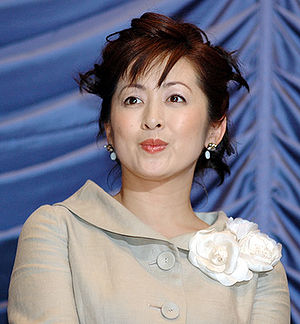 Saito Yuki (斉藤由貴) is a Japanese pop idol singer and actress.
Profile
Married Name: Isarai Yuki (小井由貴)
Birthdate: September 10, 1966
Birthplace: Yokohama, Kanagawa Prefecture
Blood Type: B
Height: 161 cm
Sizes: 86 - 59 - 86 cm
Group: Yana Ie (やな家) (with Oikawa Mitsuhiro; 2006)
Information
Saito Yuki got her start in 1983 after winning the grand prix award for the Tokyo Cinderella Audition. But, she didn't get noticed until winning the grand prix for the Miss Magazine audition a year later. From there, she debuted as a singer in 1985 with the single "Sotsugyou", which sold over a million copies. She later started a career in acting by appearing in the first season of Sukeban Deka as the main character, Asamiya Saki, in 1986.
Saito's biggest hit came in 1987 with the release of the single "Kanashimi yo Konnichiwa". The single stayed on the charts for ten weeks and gave Saito her first appearance on the prized end of the year program Kouhaku Uta Gassen.
By the start of the 1990s, Saito shed her idol singer image and increased her appearance in television doramas and movies. In 1992, she married Isarai Nobuyasu. She is the aunt of singer Serizawa Yuu.
Discography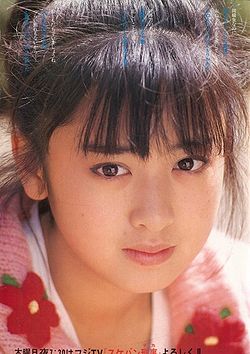 Studio Albums
Live Albums
Best Albums
Singles
Videos
[1985] Bi. Shoujo (微.少女)
[1987] Hyouryou Hime (漂流姫)
[1988] PANT
[1990] one two YUKI'S TOUR
[1990] MOONY MOON
Books
[1985] Itsumo Soba ni Ite... Yuki (いつもそばにいて…由貴)
[1985] Jounetsu Saito Yuki Shashinshuu (情熱―斉藤由貴写真集)
[1986] Kaze no Mezae Saito Yuki Shashinshuu (風のめざめ 斉藤由貴写真集)
[1988] Saito Yuki - ORACI ON (斉藤由貴―ORACI ON)
[1989] Neko no Te mo Karitai (ネコの手も借りたい)
[1990] Unmei no Onna (運命の女)
[1990] Shiawase no Vibrio (幸せのビブリオン)
[1991] Ima Dake no Honto (今だけの真実)
[1992] Toumei na Mizu (透明な水)
[1992] Yuki Teki Sekai Kanjou Ryokou (由貴的世界感情旅行)
[1993] Soutou no Tsuki Unmei no Onna (双頭の月 運命の女)
[1994] NOISY
[1998] Itsudemo Watashi Ryuu (いつでもわたし流)
[2000] Akachan Aishiteru - Saito Yuki no Ninshin Shussan Hajimete Nikki (赤ちゃんあいしてる-斉藤由貴の妊娠・出産はじめて日記)
[2000] Watashi no Suki na Ano Hito no Ko (私の好きなあの人のコ)
External Links