New user registrations have been disabled until further notice. If you would like to create an account, please message
Generasia on Facebook
. Thank you!
The FLARE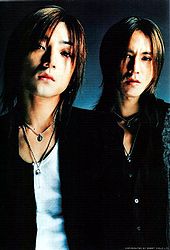 The FLARE was a J-rock project consisting of two members under Universal Music.
Members
Information
The FLARE's story begins in 1997. During SUGIZO's Abstract Days tour he was experimenting with his solo project. An avid fan of LUNA SEA, YUNA was a fledgling guitarist and an ambitious vocalist who had been amazed by SUGIZO's solo work, TRUTH?. At the time, YUNA was still just a teenager, and it was by a twist of fate that he came upon meeting SUGIZO through a mutual friend.
Instantly, the two found an affinity with one another, connecting on many different levels through deep, insightful conversation about life, the world, and other shared interests including chi kung, astronomy, and their tastes in music. Despite their large age difference of ten years, the two became fast friends and maintained contact throughout the years as SUGIZO returned to LUNA SEA, and YUNA began to experiment with his own independant projects (R.E.D and Lazy Knack being the most successful).
When LUNA SEA disbanded in 2000, SUGIZO began to produce various artists, including, in 2001, YUNA's R.E.D project. He also began his own project, SUGIZO and THE SPANK YOUR JUICE that year, and starred in a movie (Soundtrack). SUGIZO toured extensively with THE SPANK YOUR JUICE and worked with other artists on the side such as Sakamoto Ryuichi, Nicholas Tse, and DJ Krush.
When the Spank Your Juice announced their indefinite hiatus in March 2004, SUGIZO promised the world a new project; one that would feature YUNA. SUGIZO set out with the intent to change the hearts of his listeners through the use of uplifting, positive music.
With YUNA in mind, SUGIZO created The FLARE, gaining sponsorship of
Universal Music
. In March 2006, however, SUGIZO and YUNA ended The FLARE, releasing their first and final album,
The FLARE
.
Discography
Albums
Singles
External Links