New user registrations have been disabled until further notice. If you would like to create an account, please message
Generasia on Facebook
. Thank you!
SUGIZO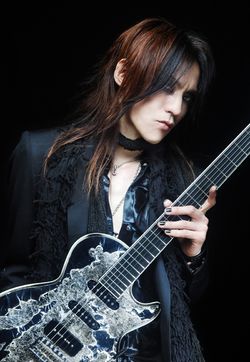 SUGIZO (スギゾー) is a musician, producer, and violinist and guitarist for the band LUNA SEA.
Profile
Real Name: Sugihara Yasuhiro (杉原康弘)
Other Names: Sugihara Yuune (杉原有音), Sugihara Yuu (杉原悠)
Birthday: July 8, 1969
Blood Type: O
Height: 176 cm
Musical Projects: SUGIZO & THE SPANK YOUR JUICE, The FLARE, SHAG, S.K.I.N., JUNO REACTOR, X JAPAN, LUNA SEA
Hobbies: Jeet Kun Do, yoga, environmental initiatives, humanitarian initiatives, anti-war initiatives, peace, new age spiritualism, preservation of the earth, and more.
Favorite Artists: Kiss, Björk, David Bowie, Bob Dylan, YMO, Duran Duran and Culture Club.
Information
Born a music virtuoso on Tuesday, July 8, 1969 in Hadano, Kanagawa, SUGIZO was raised in a family whose very lifeblooded with music. With both parents as members of the Tokyo Symphony Orchestra, SUGIZO had been trained to play violin from the tender age of three and quickly mastering an instrument which he would later on carry into his successful career.
As a child, SUGIZO had been quite active and excelling in academics, sports, and music. Growing up in the glitter and glam of the 1970's and the huge hair bands of the 1980's seemed to have had an incredible effect on the adolescent SUGIZO, who quickly became intrigued with rock bands that his father strongly disapproved of.
Taking up the guitar in his early adolescence, SUGIZO quickly mastered the instrument and set out to form a rock band with his high school friend, Shinya. This first project, which was named Pinnochio, began to grow with success and gaining a rival known as Lunacy. In 1989, when Pinnochio's vocalist (which is SUGIZO's senior in high-school) graduated, the band was disbanded, Lunacy founders J (bass) and INORAN (guitar) recognized SUGIZO's incredible skill and recruited him into the band bringing along his friend Shinya. A few months later, RYUICHI who was the vocalist of another band, Slaughter was recruited as the final block of Lunacy's foundation.
Changing their name to LUNA SEA, the band began to climb the ladder of the success in the indies scene. It didn't take long for the hugely popular band, X JAPAN's lead guitarist, hide, to notice LUNA SEA's budding potential. Quickly recruiting them, LUNA SEA was signed to Extasy Records and released their first album. By 1991, LUNA SEA was signed to MCA Victor, and almost overnight, they were selling out the Tokyo Dome.
As the lead guitarist, violinist, backup vocalist, and key songwriter of LUNA SEA, SUGIZO broke boundaries and cultural conventions unheard of in Asia with his charismatic personality, avant garde image, and brilliant skill. LUNA SEA and X JAPAN were bands that led the visual-kei revolution of the early 1990's in Japan a revolution that glorified androgyny and beauty. With a huge appreciation for the aesthetic senses, SUGIZO instantly became a fan favorite, right alongside the hugely popular guitarist and mentor, hide.
In 1997, LUNA SEA went on hiatus for a year, allowing their members to explore solo work opportunity. During this time, SUGIZO's daughter, Luna, was born and he released his first solo album, TRUTH?, released on his own label, CROSS. A convergence of experimental work and brilliant collaboration with artists from worldwide, the album explored an aspect of SUGIZO never imagined before by the public. Vastly different from his work with LUNA SEA, TRUTH? carved SUGIZO out to be far more than just another guitarist in a famous rock band revealing him as a music magnate whose talent far exceeded the role he filled in LUNA SEA.
The band regrouped in 1998, pausing SUGIZO's explorations into his solo work but not his side collaborative and production projects with other artists. With LUNA SEA disbanding in 2000, a legacy had ended and a new one began.
In 2001, SUGIZO began a production company, InterLUXIZ, in conjunction with embryo, his new label. He has collaborated with dozens of artists, and produced several successful acts. During 2001, SUGIZO began to film for his first acting debut a starring role in a movie, soundtrack. He also ended up writing all the music that was used within the incredible convergence of cinematography, storytelling, and music. Simultaneously during this time, SUGIZO developed a project known as SUGIZO & THE SPANK YOUR JUICE.
The members of THE SPANK YOUR JUICE all seemed to be drawn from various different musical backgrounds. Primarily acting as backup musicians, only half of the band recorded on any releases. SUGIZO covered most aspects of the production recording vocals, guitars, bass, and more. The veteran musician also drew bandmate, Shinya, to record on most of his releases. By the end of THE SPANK YOUR JUICE project in 2004, SUGIZO had released three separate singles and performed more than 20 lives with THE SPANK YOUR JUICE.
SHAG, a psychedelic jam band whose improvisational music guides the listener into an ecstatic trance, was born in 2002. Along with SUGIZO, the initial lineup included Mick Karn (bass), DJ BAKU (turntable), and K-Ta (vibraphone and percussion). Their purpose in the world of music is to have a great time jamming, improvising, and creating "psychedelic music and progressive rock" influenced by New Wave, Fun, Jazz, and primitive styles, in addition to dubbing and trance as a way to convey their spirituality. SUGIZO was also busy releasing his solo singles "SUPER LOVE" and "Dear LIFE" and making a name for himself as an actor by starring in Yukisada Isao's movie Rock and Roll Mission and REDRUM, a television series directed by Nikai Ken.
Also in 2002, SUGIZO accepted applications from new artists through his radio program on J-WAVE who he then produced and included along with other musicians of his acquaintance in the compilation album Global MusicGLOBAL MUSIC.
In 2003, SUGIZO performed at the Full Moon Festival at Kyoto's Ninnaji Temple. Following the release of "NO MORE MACHINEGUNS PLAY THE GUITAR", a single with an intense anti-war message, he released his second album C:LEAR. A psychedelic rock album that melded Trance, Noise, Jazz, Electronica, and ethnic music with a strong sense of spirituality and concern for social issues, C:LEAR was quintessentially SUGIZO and met with rave reviews.
In 2004, SUGIZO formed the acid rock band The FLARE with vocalist YUNA, a project that would last two years. Their music expressed anti-war, pro-peace values and in 2005 they performed at Earth Day Tokyo, Japan's largest event devoted to environmental and peaceful causes. Independent of SHAG and The FLARE, SUGIZO continued to spread his messages in many settings including press conferences and the Internet.
In 2007, SUGIZO began a new collaboration with Kondo Toshinori and REBEL FAMILIA, the leader of the Japanese dub world. Their first concert showcased a splendid amalgamation of Hard-core], Noise, Dub, Avant-garde and blissful psychedelic punk jazz that could only come from four such intense musicians. And in April, SHAG brought their explosive sensual groove to the Nagisa Music Festival.
SUGIZO also helped some artist like yasu (Janne Da Arc) solo project, Acid Black Cherry in single "Spell Magic", Miyavi's single "Hi no Hikari sae Todoka nai kono Basho de" and D'espairs Ray. Currently SUGIZO is a member of superband named S.K.I.N, consist of YOSHIKI (X JAPAN), Violet UK), GACKT (ex-Malice Mizer) and Miyavi (ex-Due'le Quartz).
In March of 2008, SUGIZO was guested as guitarist in X Japan to stand for his late mentor hide.
April 2008, SUGIZO will participate in Juno Reactor European tour, the tour itself will begin in UK, Greece and Ukraine.
Trivia
SUGIZO is a narcissist.
He is a vodkaholic.
He has a daughter named Luna, in which he wrote a song about her that is the last track in his 1997 album TRUTH?
Discography
Albums
Remix Albums
Other Albums
Singles
Digital Singles
DVDs
Compilation / Other
External Links