New user registrations have been disabled until further notice. If you would like to create an account, please message
Generasia on Facebook
. Thank you!
YOSHIKI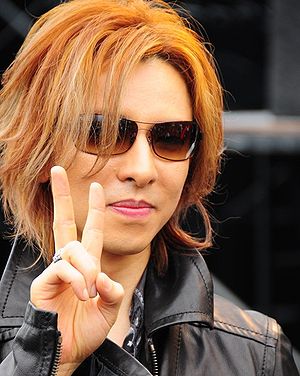 YOSHIKI is a drummer, pianist, composer, music producer, member of the X JAPAN and former member of globe extreme.
Profile
Biography
It all started when Yoshiki's mother, a classical piano teacher, began giving him lessons at the age of five. From then on, he always showed a great affinity for music. When he discovered at the age of ten that his father had comitted suicide, his love for music was what carried him through the tragedy. A big fan of KISS among other American bands, Yoshiki learned to focus his anger and pain through drumming.
In 1976, Yoshiki and his childhood friend Deyama Toshimitsu formed a rock speed metal band called NOISE. In 1982, at the end of their high school days, Yoshiki and Toshi tried to turn NOISE into a professional band. Renamed X, the band became notorious because of their punkish looks and their music was too angry and aggressive for a recording label to risk licensing. However, believing in her son's potential, Yoshiki's mother sold their family business so that Yoshiki could found Extasy Records and produce X's music himself.
Many members entered and left X, but their members finally standardized in 1987. Yoshiki was the drummer and pianist as well as the composer, hide was the lead gutarist and secondary composer, Toshi was the vocalist, Pata was the second guitarist, and Taiji was the bassist. That same year, X relased their first single "Orgasm". By 1988, Extasy Records also met with success, having signed two other bands (LADIES ROOM and ZI:KILL).
When Yoshiki's good friend Komuro Tetsuya (of GLOBE) came to him in 1991, they decided to release a single called "Haitoku no Hitomi - Eyes of Venus" under the name V2. Yoshiki, as always, was the drummer and pianist, while Komuro was the keyboardist. Together, they also held a concert. Additionally, Yoshiki released Yoshiki Selection, a CD selection of Yoshiki's favorite classical music.
By 1992, X was widely known and extremely popular in Japan. Yoshiki became such a rabid drummer that he frequently had neck and wrist injuries as well as black-outs while performing. During some concerts, he wore neck braces and ignored advice from his doctor to stop drumming because it was too hard on his wrists.
Meanwhile, X's punkish look had given birth to a look known now as visual-kei, which became a major influence on the Japanese rock scene. It was so popular that Fools Mate published a photobook (appropriately named NUDE) of Yoshiki modeling. Though Yoshiki shed his effeminate clothing, the knee-length hair and the mekeup still expressed the visual-kei look. That same year, Extasy Records signed rock legend LUNA SEA.
With X's increasing popularity, they decided to focus on an American audience as well. Unfortunatly, there was already an American band called "X", so Yoshiki's band was forced to change their name to X JAPAN, which thankfully stuck. Their performance on the American scene is unknown, but it halted the same year when Taiji decided to leave the band. He was later replaced by bassist Heath.
By 1993, X JAPAN's immense popularity combined with their release of the nearly-thirty-minute opus, Art of Life, gave them a much needed break, and time to focus on solo work. This gave Yoshiki the chance to return once again to the classical music scene. He teamed up with George Martin, Graham Preskett, and the London Philharmonic Orchestra to release a full-length two-CD album, Eternal Melody. The album contained orchestral arrangements of several X JAPAN songs and one of Yoshiki's own. That song, "Amethyst", was also recorded by Yoshiki and Martin and released as a single the same year.
In 1994, Yoshiki continued his own work, teaming up this time with Roger Tylor to produce a single called Foreign Sand. As usual, Yoshiki was the pianist and drummer. Taylor was the vocalist. That same year, Yoshiki was finally able to give back to his favorite band. He arranged a classical version of one of KISS's songs, "Black Diamond", for their tribute CD, KISS My Ass.
In 1996, Yoshiki released Yoshiki Selection II, the sequel to his previous classical music compilation. Meanwhile, Extasy Records had signed many other bands, including GLAY and Tokyo Yankees, and would continue strong, eventually signing Abandoned Pools and Dir en grey.
X Japan returned from their break in 1996 with the November release of Dahlia, but tragedy struck again. Behind the scenes, Toshi had left the band. There would be no tour. It was announced nearly a year later in May, and the band formally dissolved that September.
Once X JAPAN disbanded, Yoshiki began working on a new solo project, Violet UK. He aimed for it to combine a variety of musical genres and other elements like fashion in the same way that all colors combine to form violet. Behind the scenes, he was planning to resurrect X Japan with hide in 2000. However, those plans would soon be shattered forever.
On May 2, 1998, hide was found hanging by a towel from a doorknob. The suicide shocked Yoshiki to the point where we became unable to compose music and vowed to give up drumming forever. A memorial concert for hide was planned in 2002, but it was cancelled due to the fear that it was too commercial of an idea.
In 1999, a tribute CD was released for hide called hide TRIBUTE SPIRITS, That November, Yoshiki was also asked to perform in a festival to celebrate the tenth anniversary of the enthronement of Emperor Akihito. Yoshiki peformed "Anniversary", an original orchestral piece. He performed on the piano while backed by an orchestra. It was well received by both the Emperor and his wife, Empress Michiko, who both adore Yoshiki's music. The successful composition of both these songs led Yoshiki to break out of his slump completely by 2000.
Interestingly enough, during his 2001 campaign for Prime Minister of Japan, Koizumi Junichirou made it publicly known that his favorite song was X Japan's own "Forever Love".
After the announcement of Violet UK, Yoshiki began to promote it. In 2002, he produced and starred in three comercials for 7-11, in which Violet UK music and concepts were used. That year, Yoshiki also announced that he was once again joining Komuro Tetsuya, this time as the fourth member and keyboardist of the J-pop band GLOBE. However, to keep Violet UK off the backburner, Yoshiki held a two-day December concert with the Tokyo City Philharmonic Orchestra. Though the concert featured Yoshiki's Violet UK music, it also included some popular X JAPAN ballads and some of his own solo songs. The concert was released on DVD near the end of 2003.
Yoshiki is producing DAHLIA, who was chosen to sing the theme of Aichi's Expo 2005. He is also currently producing The TRAX, a Korean rock band, whose single, Scorpio, was recently released in December, 2004.
In March 2005, fans were elated to hear that Yoshiki had released Eternal Melody II, a followup of the first album, except with the Tokyo City Philharmonic Orchestra. This album cosisted of mainly Yoshiki's own work, Violet UK and otherwise. However, unable to allow it to be completely devoid of X JAPAN's influence, the CD also contained a beautifully-written arrangement of arguably X JAPAN's most popular ballad, "Forever Love".
Yoshiki is now part of "supergroup" S.K.I.N., which consists of himself, popular solo artists Gackt and Miyavi, SUGIZO, former gutarist of LUNA SEA, and JU-KEN from GacktJOB. SKIN played their first live at Anime Expo on 29th July, 2007.
Discography
Albums
Singles
Digital Singles
External Links