It is thanks to each and every one of you that has made Generasia the largest resource for Asian media info. To our wonderful contributors, thank you!
Edison Chen
From generasia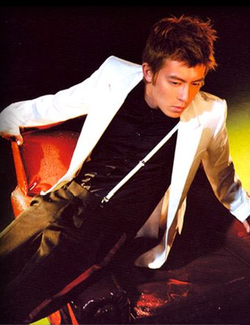 Edison Chen (陳冠希) is a popular Hong Kong Chinese actor and R&B, Hip-pop singer/rapper.
He was formerly an artist of the Emperor Entertainment Group (EEG); however, his contract with EEG ended in 2005. He is the founder of the fashion label CLOT Inc and is also CEO of the record label Clot Media Division Limited. He is currently living in Hong Kong and relocated in Taiwan in 2013. He owns a lifestyle company named CLOT, which works with labels and artists from all around the world gathering them all together in unison in the Greater Asian region, although they are based in the Hong Kong region.
He also sings cantopop and can speak English, Cantonese, and Mandarin. However, as with many foreign-born Chinese, Edison does not have a perfect command of Cantonese or Mandarin. He is idolized for his "cool" attitude and his good looks, though critics cite him as conceited ("chuen", "串", in Cantonese slang). Rising to fame, he quickly established himself as the best selling balladeer by having his CDs sold over in millions before verging to RnB and Hip hop. He is known for his deep-airy and lyrical baritone voice as both a Cantopop and Mandopop singer.
He dabbled in modelling as well including Levi's Jeans and Samsung Cellphones. Since then, he has involved with numerous films and advertisements.
As of February 21, 2008, he has announced his indefinite departure from the Hong Kong entertainment scene due to his sex photo scandal earlier that year. He returned in 2010 but has yet to make a comeback in the Hong Kong film industry.
Regardless of the scandal, He gained the title "Asia's Eminem." [1]
Profile
Name: Edison Chen
Chinese name: Chun Kwoon-hei (陳冠希)
Born: October 7, 1980
Birthplace: Vancouver, British Columbia, Canada
Height: 5'10"
Weight: 145 lbs
Years active: 2000 (singing), 2000–present (acting)
Language Spoken: English, Cantonese, Mandarin and an elementary level of Japanese
Favourite Music Genres: R&B, hip hop
Favorite Musical Instrument: The Turntable
Favourite Singers: Sammi Cheng, Leslie Cheung, R Kelly, Jay-Z, Janet Jackson
Favorite Actor: Jackie Chan
Hobbies: Dancing, Singing, Playing basketball, Internet
Favourite Food: Japanese cuisine
Favorite Country: United States
Favourite City: New York City
Favourite Colour: Blue
Favourite Accessories: Diamond earring, platinum rings
Favourite Sport: Basketball, swimming
Unforgettable Achievements: Gen Y Cops, Pepsi campaign in Shenzhen, Debut album
Likes: Happiness, Peace
Dislikes: Hypocritical people, Filthy, War
Information
In comparing his vocal techniques to Hong Kong singers Jackie Chan (for his usual nasal voice), Takeshi Kaneshiro (for his distinctive low register), his voice is also comparable to international musicians R Kelly (for his falsetto) and Eminem (for his technical rap skills); His also known for executing the dynamics sweeping from his whispering pianissimo to his theatrical fortissimo effect in some of his old recordings as well.
His music has encompassed a broad range of genres with ballad, soul, contemporary pop, hip hop and RnB. When he was little, he listens to cartoon songs like Doraemon and Disney music. He grew up mainly listening to hiphop and RnB from his friend's recommendation. [2]
In March 2004, Edison Chen was assaulted by two teenagers, aged 16 and 17, in downtown Hong Kong. The two teenagers apparently mocked Edison by breakdancing in front of Edison as he was leaving a hair salon. One of the teenagers swung at Edison and hit him in the right ear. The two teens ran off whilst Edison gave chase for nine city blocks before returning to the same shopping arcade. There he called his "assistants" (rumored to be ex-Triads) to look for the two teens. They were eventually caught on a bus.
On March 9, 2007, Chen was returing home when he discovered a Taxi, that had just dropped off some passengers, blocking his gate. The taxi driver requested that Chen back-up so that he could pull out and let Chen enter; however, Chen's security guard requested instead that the taxi driver pull over so Chen could pass, resulting in the driver insulting the guard and a subsequent argument between Chen and the driver. Eventually, Chen got out of his car, kicked the taxi several times and broke all the windows. He was charged, convicted and fined HK $4,700.
In January 2008, Chen was involved in a widely-publicized sex scandal which involved multiple sexually explicit photographs of himself and other people were circulated on the Internet. Celebrities implicated in the scandal included Gillian Chung, Bobo Chan, Mandy Chen, Candice Chan, Rachel Ngan and Cecilia Cheung. The photographs also included 6 other women and other men, as well as his current girlfriend Vincy Yeung. On February 21, 2008, he officially announced his indefinite departure from the Hong Kong entertainment industry.
Although he's untrained in singing, he is known for his distinctive head and nasal voice, Chen possesses the vocal range of a lyric baritone for his sweet and mild singing voice while his tessitura is in the range of E3 to F#4.
During his years as both Cantopop and Mandopop singer, he has been known to sing "typical pop songs" where he showcase his distinctive natural vocals on his early recordings. From his album Please Steal This Album, some of his songs can be heard of his improvement on his vocals and the ability to reach high notes of a high lyric baritone to a low tenor.
His version of Eason Chan's "Nicotine" where he hit the high notes of G and G# above middle C.[3]
Trivia
Edison was also voted as the top 100 Asian men by public Internet users this year, 2006.
On March 22 2006, Edison Chen was on a Japanese dating show with Anne Suzuki who was Jay Chou's character's girlfriend in Initial D.
He is a method actor by reading Stanislavsky's books and took method acting classes in L.A. in which he explains that method acting asks you to draw on personal experiences to put into your character. [4]
Showcases his unusual skills in playing the piano for the film Life Translated 7
Discography
Cantonese Albums
Mandarin Albums
EPs
Compilations
Collaborations
2001 - Release (with Joey Ng) - from his album Visual Diary
2001 - 只要有目標 (with Elva Hsiao) - a bilingual song in Mandarin and Cantonese for the Solar Project 2001 Campaign.
2001 - Party For Three Persons (with Twins) - from his album Peace and Love
2002 - How Bad I Am? (with Hanjin and Gillian Cheung) - from his album Breakthrough
2003 - 唔該行開(Argue Mix)(Please Leave (Argue Mix)) (with Yu Chiu) - from her album YUSEE AGAIN!
2005 - Waste of Breath (with Maria Cordero) - from his album Hazy: The 144 Hour Project
2007 - "LOVE ME, HATE THE GAME" with M-Flo, Chan, Thaitanium and Ryohei Yamamoto - from M-Flo's album Cosmicolor
2011 - Mr. Sandman [NASA Remix] (with MC Hotdog, Sammi Cheng)
Filmography
Film
2000 – Dead or Alive 2: Birds (Dead or Alive 2: 逃亡者) (Japan)
2000 – Gen-Y Cops (特警新人類2)
2001 – Final Romance (願望樹)
2001 – Dummy mother, Without a Baby (玉女添丁)
2001 – Dance of a Dream (愛君如夢)
2002 – Princess D (想飛)
2002 – Nine Girls and a Ghost (九個女仔一隻鬼)
2002 – Infernal Affairs (無間道)
2003 – The Twins Effect (千機變)
2003 – The Medallion (飛龍再生) (Cameo)
2003 – Infernal Affairs II (無間道II)
2003 – The Spy Dad (絕種鐵金剛)
2003 – Infernal Affairs III (無間道III: 終極無間) (Cameo)
2004 – Sex and the Beauties (性感都市)
2004 – Moving Targets (2004 新紮師兄)
2004 – Life, Translated (時差7小時)
2004 – Jiang Hu (江湖)
2004 – The Twins Effect II (千機變)
2004 – A-1 Headline (A-1 頭條)
2005 – Initial D (頭文字D)
2005 – Under The Same Moon (同じ月を見ている) (Japan)
2006 – Dog Bite Dog (狗咬狗)
2006 – The Grudge 2 (咒怨2)
2007 – Trivial Matters (破事兒)
2008 – The Dark Knight (Cameo)
2009 – The Sniper (神鎗手)
2009 – Coweb (戰無雙) (Cameo)
2012 – Almost Perfect
2014 – Golden Chicken 3 (金雞SSS)
2014 - Streets of Macao
2015 - Initial D 2
TV series
2002 – Feel 100% (百分百感覺)
2003 – Hearts of Fencing (當四葉草碰上劍尖時) Guest
2005 – Eight Heroes (八大豪俠)
2012 – Tourbillon
2014 – Blind Spot
Other appearances
2001 – Weakest Link (一筆OUT消)
2005 – MTV Whatever Things
2006 – Gumball 3000: Drivin' Me Crazy
Voice Over works
2001 – Cats & Dogs (貓狗鬥一番) (Voice only, Cantonese version)
2007 – Shrek the Third (史力加之咁就三世) (Voice only, Cantonese version)
2012 – Sleeping Dogs (Jackie Ma) (Video game)
Endorsements
Citibank (with Leon Lai)
Pepsi
Evisu
Levi's
Samsung
U-Campus Edge Wear (with Paula Taylor)
Awards
Film and TV Awards
2001 - 20th Hong Kong Film Awards - Nominee - Best New Performer for Gen-Y Cops
2003 - China Fashion Awards - Winner - Character Figure
2004 - China Fashion Awards - Winner - Asia Breakthrough Artist
2007 - BQ Celebrity Score Awards - Nominee - Best Fashion Artist
Music Awards
2000 - Jade Solid Gold Best Ten Music Awards - Winner - Most Popular New Artist (Male) (dual gold with Louis Koo)
2001 - Jade Solid Gold Best Ten Music Awards Winner - 4 Stations Best Song/Four Channel Award (silver)
2001 - TVB8 Mandarin Music Awards - Winner - Top 10 Songs/Winner - Best New Singer
2002 - Jade Solid Gold Best Ten Music Awards - Winner - Favorite Online Song - I never told you (bronze)
2002 - RTHK Top 10 Gold Songs Awards - Winner - Best Song
2002 - CMA Chinese Music Awards - Winner - Favorite New Singer
2002 - Top Chinese Music Awards - Winner - Outstanding New Singer
2002 - Music Pioneer Chart Awards - Winner - Favorite Singer
2002 - TVB8 Mandarin Music Awards - Winner - Best Song
2003 - MusicRadio China TOP Ranking Chart - Winner - Gold Song
2004 - Music Pioneer Chart Awards - Winner - Favorite Singer
2004 - Jade Solid Gold Best Ten Music Awards - Winner - Outstanding Performance
2011 - Golden Melody Awards - Nominee - Best Music Video - Mr. Sandman
Citations
External links