Due to an influx of spam accounts getting through and joining the site, user registrations have once again been disabled until further notice as we work on a different solution.
FLCL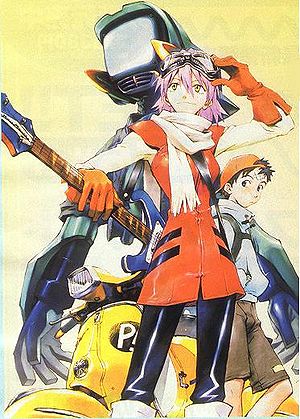 FLCL (フリクリ Furi Kuri) or Fooly Cooly is a sci-fi comedy anime created by GAINAX company and Yoji Enokido and directed Kazuya Tsurumaki. It a popular anime series in both Japan and North America.
The series was created as an anime first in April 2000 as a short 6 episodes OVA and ended in March 2001. Even though it was a short series, it lasted an impact in Japan and North America. A three volume novel was created in June 2000 and the anime was adapted into a two volume manga as well.
Synopsis
The series focuses on Nandaba Naota, a twelve-year-old boy on the verge of puberty living in a strange and yet ordinary Japanese suburb of Mabase. A strange energetic girl, Haruhara Haruko, drives up and whacks him in the forehead with a bass guitar with a chainsaw start motor. It is gradually revealed that Haruko is fighting a company named Medical Mechanica in Mabase.
Naota has grown up without a maternal figure but now lives with his father Kamon and his grandfather Shigekuni at their family bakery. Naota admired his older brother Tasuku, who has gone to United States to play baseball, but now resents that he has gone. In addition to being hounded by Haruko, he is being watched by a man named Commander Amarao and Kitsurubami, are attempting to save the earth by stopping both Haruko and Medical Mechanica.
The plot also involves Mamimi, a socially awkward girl who used to be Tasuku's girlfriend.
The power of N.O. lets items be pulled out of characters' foreheads. Naota's N.O. is responsible for the appearance of; Canti, Naota's Guitar, Atomsk's Gibson, three M.M. robots, and in the end, Atomsk himself.
Main Characters
Naota is the main character of the series, aged Twelve, He believes he is normal, and living in a normal town, full of crazy people. He has huge N.O. powers that he doesnt know of until later on in the series. He still states that nothing happens in his town, even after the strange things happen.
Voiced by Mizuki Jun
Haruhara Haruko (ハルハラ・ハル子)
Haruko Is a pink-haired girl from outer space. She rides a yellow Vespa and wields a left-handed Rickenbacker bass guitar as a weapon. She becomes the Nandaba household's maid and plays on a rival team of the Mabase Martians for extra money.
Voiced by Shintani Mayumi
Samejima Mamimi (サメジマ・マミ美)
Mamimi, aged Seventeen, believed herself to be Tasuku's girlfriend, though since he has gone away she uses her sorrow on Naota. She never attends school, smokes, and spends most of her time under a bridge.
Voiced by Kasagi Izumi
Canti is a robot with a television set for a head. He was manufactured by Medical Mechanica. It is later revealed that Atomsk was contained inside him.
Kamon is Naota's father and a former pop culture journalist working as a freelance writer.
Voiced by Matsuo Suzuki
Nandaba Shigekuni (ナンダバ・シゲクニ)
Shigekuni is Naota's grandfather. He owns the family bakery and coaches the local baseball team, the Mabase Martians.
Voiced by Ito Hiroshi
Amarao works for the Foreign Embassy department of the government. This group knows that aliens exist, and try to keep them from the public, so he is trying to get rid of Haruko.
Voiced by Okura Koichi
Eri, aged twelve, is Naota's classmate. She is the daughter of the mayor and class president. She also has a crush on Naota.
Voiced by Ito Mika
Atomsk, also known as the "Pirate King", is the most powerful space pirate in the galaxy. His N.O. is great enough to steal planets. He is a bird-like creature, resembling a phoenix.
Music
Theme Song
The insert music and theme song of FLCL is performed by the
J-Rock
group
the pillows
it is sung, written, and composed by the lead singer of the band
Yamanaka Sawao
. Additional background music is done by
Mitsumune Shinkichi
.
Opening theme
Ending theme
Insert songs
Discography
Singles
Soundtracks
External Links