Due to an influx of spam accounts getting through and joining the site, user registrations have once again been disabled until further notice as we work on a different solution.
Furukawa Miki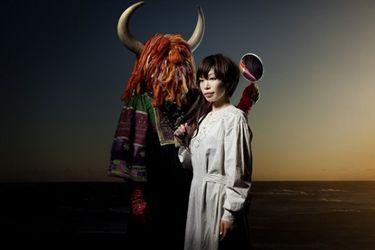 Furukawa Miki (フルカワミキ) is a Japanese rock singer-songwriter currently signed to Ki/oon Records. Furukawa made her debut in the mid-1990s as the bassist and backing vocals for the band SUPERCAR. After the band disbanded in 2005, Furukawa embarked onto a solo career and signed with BMG Japan.
Profile
Name: Furukawa Miki (フルカワミキ)
Real name: 古川美季 (kanji spelling)
Nickname: Mikichan (ミキちゃん)
Birthdate: February 19, 1979
Information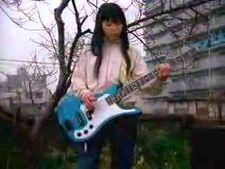 In 1995, Furukawa Miki put an ad in the a local Aomori newspaper stating "musicians wanted". Ishiwatari Junji replied to the ad and soon invited his long-time friend Nakamura Koji to join as well. The two boys then brought in Tazawa Kodai, who was a friend from junior high school. They called themselves SUPERCAR. Soon after they all started writing and recording and were soon offered a record deal by Sony Music Entertainment and signed under their Ki/oon Records sub-label.[1]
They made their major debut in 1997 with the single "cream soda". In the band Furukawa acted as the bassist and also as a secondary vocalist. On the band's second During the band's popularity she became the central figure in the band, and became well known for her alternative style and her blue stratocaster bass guitar. She shared vocals with Nakamura Koji on the second single "Lucky", on the third single "PLANET" she was the focal point of the cover art and the music video. On their fourth single "DRIVE", Furukawa solely performed vocals and only she was featured in the music video[2]. She was also later featured on lead vocals and on the cover art for the band's tenth single, "Strobolights"[3].
In 2002, Furukawa signed a deal with Uniqlo to star in series of CMs[4]. In 2003, she wrote the lyrics for the song "Rou", which was her only lyrical contribution to the band. It was also around this time that she began modeling for fashion magazines. After their disbanding in February 2005 Furukawa began to participate in the work of other musicians.
Furukawa Miki signed a record deal with BMG Japan and made her solo debut in June 2006 with the single "Coffee & SingingGirl!!!". The single reached #35 on the weekly Oricon chart, and stayed on the chart for a total of four weeks[5]. She released her solo debut album, Mirrors less than a month later. In 2007 she released her second single, "Psycho A*rika", which is pronounce as "Psycho Amercia". A year later Furukawa release of third single "Candy Girl", which was used to promote the Candy Stripper brand, which styled Furukawa for the release. A month later, she released her second album, Bondage Heart, which also received styling from Candy Stripper.
In 2009, Furukawa left BMG Japan and signed with the indie label HEARTFAST. Under the label she released her remix album, Bondage Heart REMIXES. However, soon after the release she left the label and signed with her former major label Ki/oon Records. On December 2nd 2009, Furukawa Miki announced the release of her fourth single, "Saihate".
In 2010, Furukawa released her third studio album titled, Very. Also around the time of the album's release she also debuted her own clothing line, GAINAN[6].
Discography
Studio albums
Remix albums
Singles
Analog
References
External Links