User registrations have now been re-enabled. If you previously had an account and logged in via OpenID, please create a new account. Thank you!
Hirakawachi-Itchome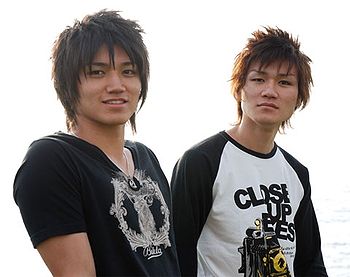 Hirakawachi-Itchome (平川地一丁目) was a Japanese folk rock duo composed of brothers Hayashi Ryunosuke and Hayashi Naojiro. They made their major debut in 2003 under DefSTAR Records and disbanded in 2008.
The group is named after a district where they once resided in Shizuoka Prefecture.[1]
Members
Information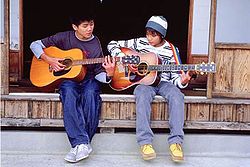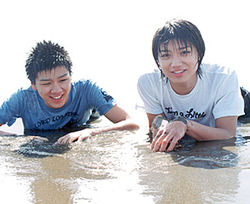 Early Days
Originally from Shizuoka Prefecture, the Hayashi brothers, Ryunosuke and Naojiro, grew up in the city of Sado, Niigata Prefecture. Their father influenced Ryunosuke to start playing guitar. In 2000, he was interested in playing at a local countdown event and invited his younger brother, Naojiro, to join him, marking the beginning of Hirakawachi-Itchome. The first song they played was Yoshida Takuro's "Soto wa Shiroi Yuki no Yoru".[1]
After the countdown event, Hirakawachi-Itchome began performing at various places and started writing their own original songs. In 2001, they noticed a flyer for a Sony Music audition. They tried out, passing all the stages and landing a recording deal with DefSTAR Records under the management of Double STAR.
Debut
On March 5, 2003 at the young ages of 14 and 12, Hirakawachi-Itchome released their debut indie mini-album, Nanatsu no Hiragana, on Double STAR's label. Their major debut single, "Tokyo", followed in November. It was produced Saito Kazuyoshi. They released their debut album, Enpitsu de Tsukuru Uta, on July 28, 2004. It reached #7 on the Oricon weekly chart, which made them the youngest male act to chart in the top ten.[1]
Disbandment
In May 2008, it was announced that Hirakawachi-Itchome would disband.[2] When they were younger, their mother had left the family with their youngest brother. The duo stated that one of the reasons for debuting was in hopes of getting their mother's attention and reuniting the family, which as since happened after she noticed them on television.[3]
For their final single, Hirakawachi-Itchome recorded a self-cover of their debut single, "Tokyo", released on July 30. On the same day, the duo released their first self-titled best album, Hirakawachi-Itchome. In August, they concluded their final tour, '08 Final Tour ~Hirakawachi-Itchome wo Kakemekeru Natsu, which was included on the DVD of their B-side best album, Hirakawachi-Itchome II ~Mou Hitotsu no Best Album to Last Live~, in November.
Discography
Studio Albums
Other Albums
Singles
DVDs / UMDs
Compilations / Other
References
External Links