It is thanks to each and every one of you that has made Generasia the largest resource for Asian media info. To our wonderful contributors, thank you!
Houkago Princess
From generasia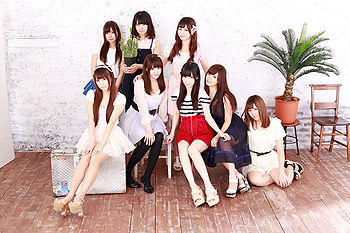 Houkago Princess (放課後プリンセス; After School Princess) is a Japanese pop idol group under the label PRINCESS MUSIC and TIARA RECORDS. The group formed in 2010 and released their first single, "Houkago Princess ~Oshiete Kudasai!~", in 2011. The group is under the entertainment office CUTE BLACK inc. as of 2014.
The group performs frequently at the venues Shibuya DUO, Coconuts STAGE and Ruido K2, and since June 2014 have started to hold irregular performances at Ruido K2 in Shibuya. Previously, the group performed at Ikebukuro WHITEBASE from 2011 up until April 2013.
Members
Candidate Members
Apprentice Members
Former Members
Former Candidates / Apprentices
History
2010–2011
Houkago Princess began in 2010 as a project for costume designer NAOKI, a costume designer for Pro-Wrestlers, where he would manage, design and create the outfits for the group of girls. Various talents under the label Office COLOR were selected, creating a group of eight members - Odagiri Nana, Chiba Sakino, Noda Hitomi, Miyashita Mayuka, Kishitani Yuki, Hagi Yurika, Yamaguchi Mai and Yumeka. In March of the same year, the girls underwent lessons in dancing and singing to prepare for their debut. The group had been managed by GET-CRAZY.
In May 2011, prior to the groups debut that year, Hagi Yurika withdrew from the group due to ill health. In June, just a month later, the group prepared for their official CD debut as they were announced to the public for the first time. On August 3rd 2011, Houkago Princess ~Oshiete Kudasai!~ was released and the group began to perform regularly at Ikebukuro WHITE BASE Theatre. In November of the same year, it was revealed that Nagafuji Aoi and Kobayashi Rena would join the group as Candidates. Later, on December 10th, Yamaguchi Mai graduated the group whilst both Nagafuji Aoi and Kobayashi Rena debuted as Regular members in Houkago Princess.
2012
In early 2012, the group revealed that they would release their second single, Juliet ~Kimi wo Suki na 100 no Riyuu~, publicly on February 29th. This was the first single of the groups to be released in two different versions.
On May 26th of the same year, it was revealed that the members Yumeka, Kishitani Yuki and Miyashita Mayuka would all graduate the group for their own reasons; Yumeka left due to health reasons, and went on to pursue a short TV career, whilst Mayuka went on to pursue modelling. Yuki's reasons for leaving were at first vague, however she eventually went on to form and lead her own group, DREAM FACTORY, as well as pursue a career in gravure modelling. In the same month, Odagiri Nana had also originally planned to leave the group, however withdrew her decision.
In June 2012 the 3rd generation members were introduced, and was made up of seven members; Sakuragi Nene, Yamaguchi Miran, Ayase Miho, Shiraishi Rika, Shiroboshi Chiaki, Momose Fuuka and Asakura Megumi were all selected to join Houkago Princess as Cadet members. After just a month since joining however, Nene was promoted to become a member of the Regular lineup.
Later, in October, the group released their third single Kojiki Shika! as a Limited Venue-only release. Shortly after the groups new single release, it was revealed that the 3rd generation Cadet Shiroboshi Chiaki had been dismissed as she had been contacting fans secretly.
On December 2nd, Housou-bu Please was released as a Limited Venue-only release. On the same day, Kizuki Saori and Matsumoto Ria were officially introduced to the group as the 4th generation Cadet members.
2013
In early January, Hayamizu Rin, Aiuchi Kohana and Yamakawa Risa were added to the 4th generation Cadets. Later on in March, Yamaguchi Miran and Shiraishi Rika of the 3rd generation had been promoted to the Regular lineup alongside 4th generation member Kizuki Saori. In March, it was revealed that Miyashita Mayuka, originally a part of the 1st generation lineup, would return to the group as a 2.5th generation Cadet, where she would have to work her way up to being a Regular member once again.
On May 15th, the group released their 5th single Juliet ~Kimi wo Suki na 100 no Riyuu~ (2013 Version) publicly, and was the first single from the group to obtain the #1 spot on the Indies Oricon chart.
In July, it was announced that Sakurai Riho, Fukuhara Kyoka and Nagasawa Marina were all introduced as the new 5th generation Cadet members. Ayase Miho had also been promoted to a Regular member position within the group at the same time the newest members were introduced. The group also performed at Tokyo Idol Festival for the first time in 2013.
In October, it was revealed that former Houkago Princess members Chiba Sakino, Noda Hitomi, Nagafuji Aoi and Shiraishi Rika would form a new group under the label GET-CRAZY. This ended Houkago Princesses run with the agency, and they switched to PRINCESS MUSIC after that.
Also in October, former model Michishige Saho was announced as the newest member within the group, and the first 6th generation Cadet. Hayamizu Rin, Yamakawa Risa and Miyashita Mayuka were also promoted to the Regular lineup of members.
On November 27th, the group released their 6th official single publicly, titled Samu wa Fuyui!.
During this year, between January up until December, the group underwent many changes as it lost many of its members due to Dismissals or desires to Graduate for their own reasons. Kobayashi Rena, Asakura Megumi, Matsumoto Ria and Noda Hitomi were all Dismissed from the group due to a breach of contract, whilst the members Suzukawa Kanari (who joined the group in May of the same year), Nagafuji Aoi, Chiba Sakino, Aiuchi Kohana and Shiraishi Rika all withdrew or Graduated from the group.
2014
Early on in the year it was revealed that Yamakawa Risa had been Dismissed from the group due to a violation of their contracts. Yamakawa, who had previously suspended activities due to an injured foot, had been found publicly meeting up with a fan just a day after suspending her activities, and was found to be uninjured and walking well. Later on in January, Sakurai Riho had been Suspended for an indefinite amount of time when it was found out that she had a boyfriend through her private Twitter account. She was officially dismissed from the group in April.
At the start of February, Houkago Princess began to hold auditions for new 6th generation Cadet members. Kawamura Shiori joined the group in early February as a new Cadet member, however she soon left the group within the same month due to personal reasons. Just a day after, Fukuhara Kyoka announced her Withdrawal from Houkago Princess due to family reasons and graduated on February 27th.
In May, Hayamizu Rin announced her graduation from the group. She had previously suspended her activities in April in order to focus on her health as well as a stage play she had been cast in. She decided to graduate to focus on Theatre activities from then on and pursue a career in Stage acting.
In May and June respectively, Miyashita Maika, a former member of the group Power Age and Sirosaki Himari were introduced as the newest 6th generation Cadet members of the group. It was then revealed that Houkago Princess would release their 8th physical single, Manatsu no Yoru no Yume, which is set for release in September 2014. Soon after, in July, Maika was promoted to the Regular lineup.
On July 28th, it was revealed that Nagasawa Marina had been dismissed from the group for breaking the rules. It was, however, revealed by Marina through her blog that she would like to re-audition for Houkago Princess and begin a clean slate.
Discography
Mini Albums
Singles
Commemorative Singles
Digital Singles
Unreleased Songs
Chelsea Girl (チェルシーガール) (Miyashita Mayuka solo)
Nanairo Photograph (七色フォトグラフ) (Odagiri Nana solo)
Suki ga Pan (パンが好き)
DVD
[2012.01.26] Houkago Princess prologue - DVD ~Houpri ga Uchuu ichi Suki dayo (Egao)~ (放課後プリンセス prologue-DVD ~放プリが宇宙一好きだよ(笑)~)
[2014.04.27] Houkago Princess LIVE@Shibuya O-EAST ~Seito Kaicho. Odagiri Nana seitan oneman 2014~ (放プリLIVE@渋谷O-EAST~生徒会長・小田桐奈々生誕ワンマン2014~)
[2015.02.23] HouPriLIVE Lesson1 ~live-lived-lived (放プリLIVE Lesson1 ~live-lived-lived)
External Links