Generasia would not be what it is today without the countless contributions by both staff and members alike! Thank you for all that you do!!
Magnum Collection 1999 "Dear"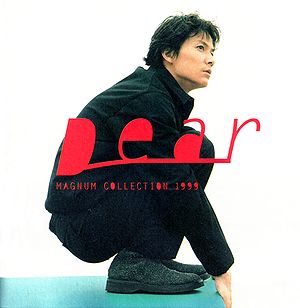 Artist

Album

MAGNUM COLLECTION 1999 "Dear"

Released

1999.12.08

Catalog Number

BVCR-18013~4

Price

¥3,780

CD1 Tracklist
CD2 Tracklist
Information
MAGNUM COLLECTION 1999 "Dear" is Fukuyama Masaharu's first best album. It reached #1 on the Oricon charts and sold 1,385,580 copies, becoming the #9 album of 2000. This album charted for 40 weeks and sold a total of 1,387,351 copies.
Oricon Chart Positions
| Week | Week Rank | Sales | Total Sales |
| --- | --- | --- | --- |
| 1 | 1 | 373,790 | 373,790 |
| 2 | 3 | 199,380 | 573,170 |
| 3 | 3 | 223,170 | 796,340 |
| 4+5 | 4 | 228,060 | 1,024,400 |
| 6 | 4 | 48,820 | 1,073,220 |
| 7 | 7 | 34,930 | 1,108,150 |
| 8 | 8 | 32,360 | 1,140,510 |
| 9 | 12 | 23,090 | 1,163,600 |
| 10 | 12 | 20,470 | 1,184,070 |
| 11 | 13 | 16,200 | 1,200,270 |
| 12 | 26 | 14,190 | 1,214,460 |
| 13 | 28 | 9,940 | 1,224,400 |
| 14 | 40 | 7,550 | 1,231,950 |
| 15 | 47 | 6,020 | 1,237,970 |
| 16 | 68 | 5,820 | 1,243,790 |
| 17 | 66 | 5,250 | 1,249,040 |
| 18 | 57 | 5,310 | 1,254,350 |
| 19 | 53 | 5,350 | 1,259,700 |
| 20 | 40 | 6,530 | 1,266,230 |
| 21 | 38 | 8,500 | 1,274,730 |
| 22 | 19 | 19,760 | 1,294,490 |
| 23 | 20 | 10,820 | 1,305,310 |
| 24 | 26 | 11,110 | 1,316,420 |
| 25 | 29 | 10,390 | 1,326,810 |
| 26 | 44 | 6,660 | 1,333,470 |
| 27 | 37 | 6,660 | 1,340,130 |
| 28 | 33 | 7,670 | 1,347,800 |
| 29 | 45 | 7,900 | 1,355,700 |
| 30 | 71 | 3,880 | 1,359,580 |
| 31 | 78 | 3,740 | 1,363,320 |
| 32 | 67 | 3,580 | 1,366,900 |
| 33 | 79 | 3,770 | 1,370,670 |
| 34 | 83 | 3,320 | 1,373,990 |
| 35 | 82 | 2,980 | 1,376,970 |
| 36 | 91 | 2,740 | 1,379,710 |
| 37 | 98 | 2,570 | 1,382,280 |
| 38 | 90 | 3,300 | 1,385,580 |
| 39 | 271 | 928 | 1,386,508 |
| 40 | 245 | 843 | 1,387,351 |
Total Reported Sales: 1,387,351
External Links