New user registrations have been disabled until further notice. If you would like to create an account, please message
Generasia on Facebook
. Thank you!
Nakama Yukie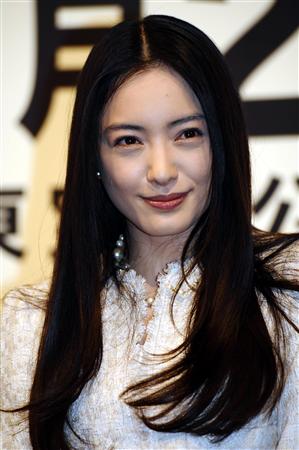 Nakama Yukie is a Japanese actress, singer, former gravure idol, and former member of the group Tokyo Performance Doll.
Profile
Name: Nakama Yukie (仲間由紀恵)
Birthday: October 30, 1979
Blood Type: A
Height: 160cm
Weight: 46kg
Information
Nakama got her break her 1993 when she attended the Okinawa Talent Academy in 1993 due to her dreams to become like singer Kudo Shizuka. A year later, she made her dorama debut after winning the grand prix for the television dorama Aoi Natsu's contest.
In 1996, Nakama later joined the group Tokyo Performance Doll for a brief time before the group disbanded a couple months later. But, it didn't stop her being a single as she debuted as a solo singer with the single "MOONLIGHT to DAYBREAK", produced by Cozy Kubo and theme for the show TK MUSIC CLAMP. Then a year later, she debuted yet again, this time as a voice actress for the anime Haunted Junction. She continued acting in doramas and appearing on radio shows like Million Nights. In 2000, she was known internationally as she sang the theme song for the Ring sequel Ring 0: Birthday.
Nakama would later go on to become the judge for the 53rd Annual Kouhaku Utagaseen in 2002. Then three year later, she appeared on Kouhaku once more, this time as a performer for the White team, singing the Gokusan's theme song, "NO MORE CRY". Then, for her third time, she appeared at the Annual Kouhaku Utagaseen in 2007 and in 2008 as the chairman of the red team. She would also appeared as a charity performer on the special television program 24 Hour TV in 2008.
To promote commercials for au television, Nakama formed the unit Nakama Yuki with Downloads in 2006 with MC Down and MC Ross. The unit released their first single, "Koi no Download", with much success, selling over 50,000 copies and reached #8 on the weekly Oricon charts. But after the next single, the group disbanded later in August of that year.
Discography
Album
Singles
Digital Single
Compilations / Others
Photobooks
[1997] Pastel
SADA - KO in "Ring 0" - Nakama Yukie Shashinshuu (SADA‐KO in 「リング0」―仲間由紀恵写真集)
[2000] 20th - Nakama Yukie
[2002] digi+KISHIN DVD Nakama Yukie (digi+KISHIN DVD 仲間由紀恵)
[2003] g@me Shashinshuu☆TOKYO STREAM (g@me 写真集 ☆TOKYO STREAM)
[2010] Photobook "Nakama Yukie" (フォトブック「仲間由紀恵」)
Video Games
[1996.06.21] MOONLIGHT to DAYBREAK
Filmography
Television
Film
Theatre
Radio
[1995] Nakama Yukie to Minna Nakama Tachi (仲間由紀恵とみんな仲間たち)
[2000] Naintinain no Oorunaito Nippon (ナインティナインのオールナイトニッポン)
Anime
Awards
33rd Television Academy Awards: Best Actress in Gokusen
37th Television Academy Awards: Best Actress in Kao
39th Television Academy Awards: Best Actress in Trick 3
42nd Television Academy Awards: Best Outfit in Tokyo Wankei
44th Television Academy Awards: Best Actress in Gokusen 2
57th Television Academy Awards: Best Actress in Gokusen 3
31st Japan Academy Awards: Best Actress in Ooku
32nd Japan Academy Awards: Best Actress in Watashi wa Kai ni Naritai
External Links