Due to an influx of spam accounts getting through and joining the site, user registrations have once again been disabled until further notice as we work on a different solution.
SHANADOO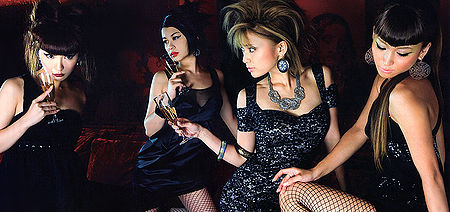 SHANADOO is a Japanese Eurodance group which debuted in Germany under ICEZONE MUSIC, with the majority of their recorded works being Japanese covers of German dance songs.
Members
Information
SHANADOO is an all female member group made up four women from the PLATINUM PRODUCTION agency. C'k, JUN, and Rose worked together in the past as part of avex trax's promotional group, vivace. vivace's works included promotional work as race queens, bikini pinup modeling, and even a few Eurobeat style recordings for various avex music compilations such as Girl's BOX. MARINA was later added to the group as lead vocalist once the project went into production with noted German music producer, David Brandes, at the helm. Brandes' production works included numerous European hits with acts such as E-Rotic, Bad Boys Blue, and Vanilla Ninja.
Released on June 16, 2006 through one of Brandes' record labels, ICEZONE MUSIC, SHANADOO's first single, "King Kong", a cover of E-Rotic's 2000 work of the same name, later popularized in 2005 by HINOI team in Japan, met with great success. SHANADOO's works were exclusive to Germany and other European markets, such as Austria, until December of 2006, when avex trax announced that, by then an untitled debut album, would be released on February 28, 2007 in Japan.
In January of 2007, it was announced by ICEZONE MUSIC that SHANADOO's fourth single, to be released on March 09, 2007 in Germany, would be original content instead of a Japanese cover of E-Rotic. In September - October, SHANADOO's take on Aneka's "JAPANESE BOY" was postponed twice due to troubles getting advertising on television in Germany. It also took SHANADOO on a new turn, on covering 80's music instead of E-rotic. SHANADOOS's next single "Think About" was released on the same day as their newest and second album The Symbol.
In 2008, due to economic problems, SHANADOO's German record label seemed to be able to no longer support the group's releases in Germany (having a third album planned for a 2008 release). The group's official Myspace was closed-down and the girls returned to Japan to pursue their career under avex trax. Clothing brand KIKS TOKYO began a campaign using SHANADOO as models for limited edition T-Shirts.
In 2009, SHANADOO continue their collaboration with KIKS TOKYO and head to Australia to perform for a special event in Sydney. They still performed regularly in smaller events alongside other popular Japanese singers and groups such as cosmeticROBOT and Kalafina. In July of 2009, SHANADOO announced on their new Official MySpace page, that they were in the middle of producing a Tokyo club style dance album with various house/dance/club music producers. On the MySpace page, the girls released previews of a few new songs that would appear on the album.
SHANADOO's 3rd studio album, Launch Party!!!, (first release in at least 2 years), and re-debut in Japan, was released on November 25, 2009. SHANADOO's release in Japan saw their image change, with dramatic electronic style and fashion. Since the release of their re-debut album in Japan, the girls have been active at live events performing and creating a larger fan base. It is assumed that due to the low sales of their last album, time to build more popularity is needed before a second Japanese release.
German Discography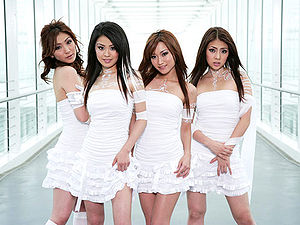 Albums
Singles
Japanese Discography
Albums
Digital Singles
Compilations
External Links